Perancangan Sistem Elektromekanik Pada Modifikasi Kursi Roda Manual Menjadi Kursi Roda Elektrik
Putri Madona

Politeknik Caltex Riau

Robby Pradana Surendra

Politeknik Caltex Riau

Amnur Akhyan

Politeknik Caltex Riau

Yusmar Palapa Wijaya

Politeknik Caltex Riau
Abstract
Ketika seseorang mengalami kecacatan pada bagian kaki yang dapat menghalangi aktifitas, maka di perlukan alat bantu yaitu kursi roda. Kursi roda yang umumnya digunakan adalah kursi roda yang bekerja secara manual. Pada Mindy Wheelchair yakni kursi roda yang dikontrol dengan sinyal otak (EEG), kursi roda manual akan dimodifikasi terlebih dahulu agar dapat bekerja secara elektrik. Desain kursi roda elektrik harus dapat bergerak pada jalan yang datar sesuai dengan perintah yang diberikan melalui sinyal otak. Ada 5 arah pergerakan kursi roda yang akan dikontrol yakni Maju, Mundur, Kiri, Kanan dan Stop. Pada Kursi roda juga ditambahkan 2 buah sensor ultasonik sebagai pengaman untuk mengetahui adanya halangan pada bagian depan dan kursi roda. Pada saat kursi roda bergerak maju, maka sensor ultrasonic belakang akan mati dan ketika pergerakan mundur, maka sensor ultrasonic depan tidak aktif. Dari hasil yang didapatkan bahwa kursi roda berhasil dibuat dengan batas maksimal beban sebesar 118 Kg dengan kcepatan yang diatur pada ± 0,72 Km/Jam.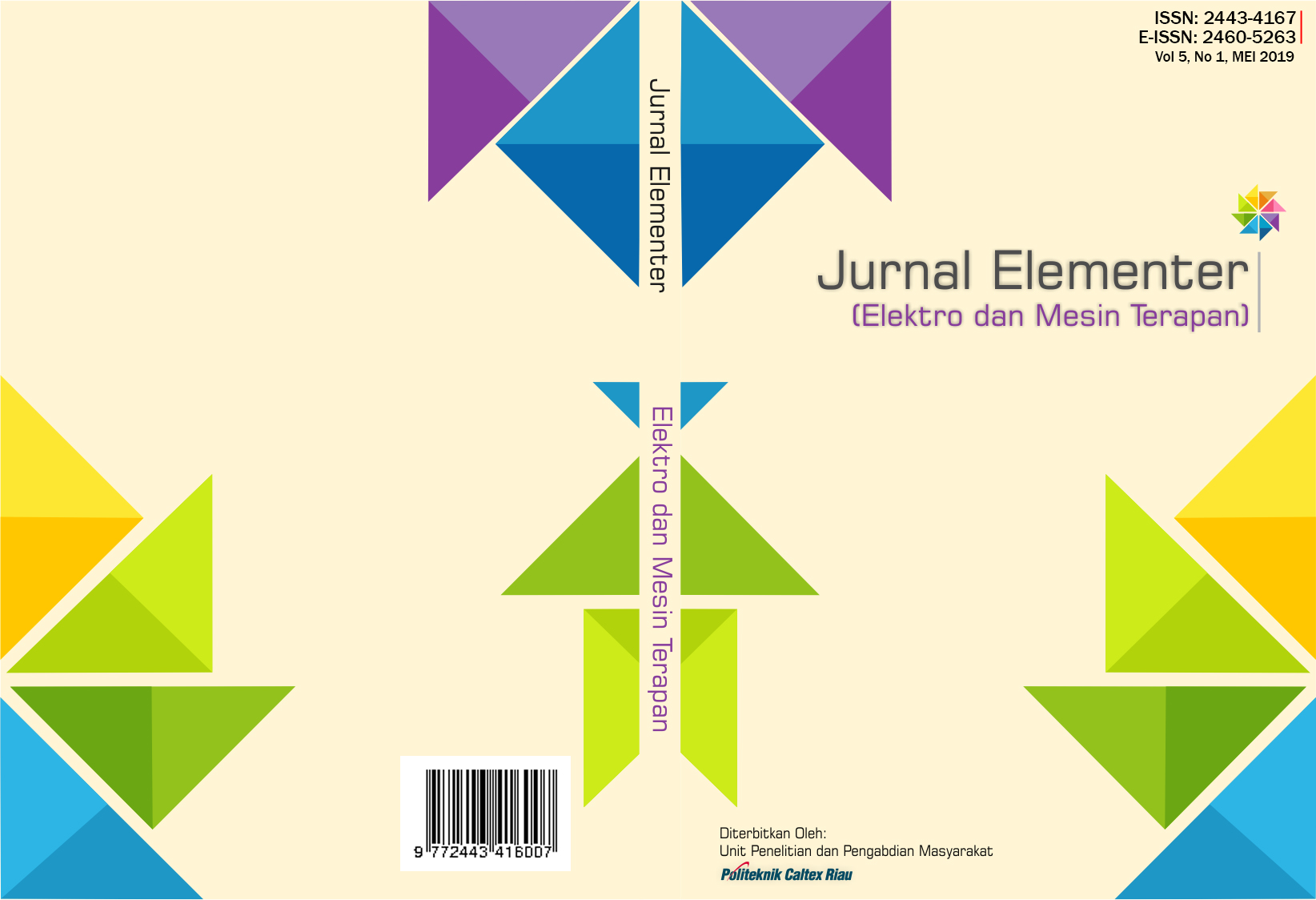 Copyright (c) 2019 Putri Madona
This work is licensed under a Creative Commons Attribution-NonCommercial-ShareAlike 4.0 International License.
Authors who publish with this journal agree to the following terms:
a. Authors retain copyright and grant the journal right of first publication with the work simultaneously licensed under a Creative Commons Attribution License that allows others to share the work with an acknowledgement of the work's authorship and initial publication in this journal.
b. Authors are able to enter into separate, additional contractual arrangements for the non-exclusive distribution of the journal's published version of the work (e.g., post it to an institutional repository or publish it in a book), with an acknowledgement of its initial publication in this journal.
c. Authors are permitted and encouraged to post their work online (e.g., in institutional repositories or on their website) prior to and during the submission process, as it can lead to productive exchanges, as well as earlier and greater citation of published work.

This work is licensed under a Creative Commons Attribution 4.0 International License.