Sistem Monitoring Tangki dan Penghitung RunHour Genset Otomatis Berbasis Internet of Things (IoT)
Cyntia Widiasari

Politeknik Caltex Riau

Putri Insani

Politeknik Caltex Riau

Muhammad Diono

Politeknik Caltex Riau
Abstract
The increasing development of engines in human life to facilitate human work for 24 hours, cannot be denied that the Generator Set or better known as Genset is very important role in keeping the engine alive during the power outages. For this reason, it is necessary to monitor a Ganset fuel tank to make it easier to find out the changing conditions of the Ganset fuel, and the automatic runhours calculation system so that the maintenance of the ganset can be easily determined based on the calculation of the life span of the ganset. Tank monitoring system and automatic calculation of runhours ganset that is designed based on IoT, this system uses an ultrasonic sensor to find out the height of the fuel tank in captivity, the current sensor as a live ganset detector, Nodemcu Esp8266 functions as data receiver from the sensor and sends it to the web application that has been created. From the test results it can be seen that the percentage of errors in the ultrasonic sensor is 5.2%, and testing on the current sensor that detects the current in the load with an error in the manual calculation time with the time on the web display only ranges from 1-2 seconds. Keywords: Tank Generator sets, NodeMCU Esp8266, Ultrasonic Sensors, Current Sensors, Servo, Server, Web.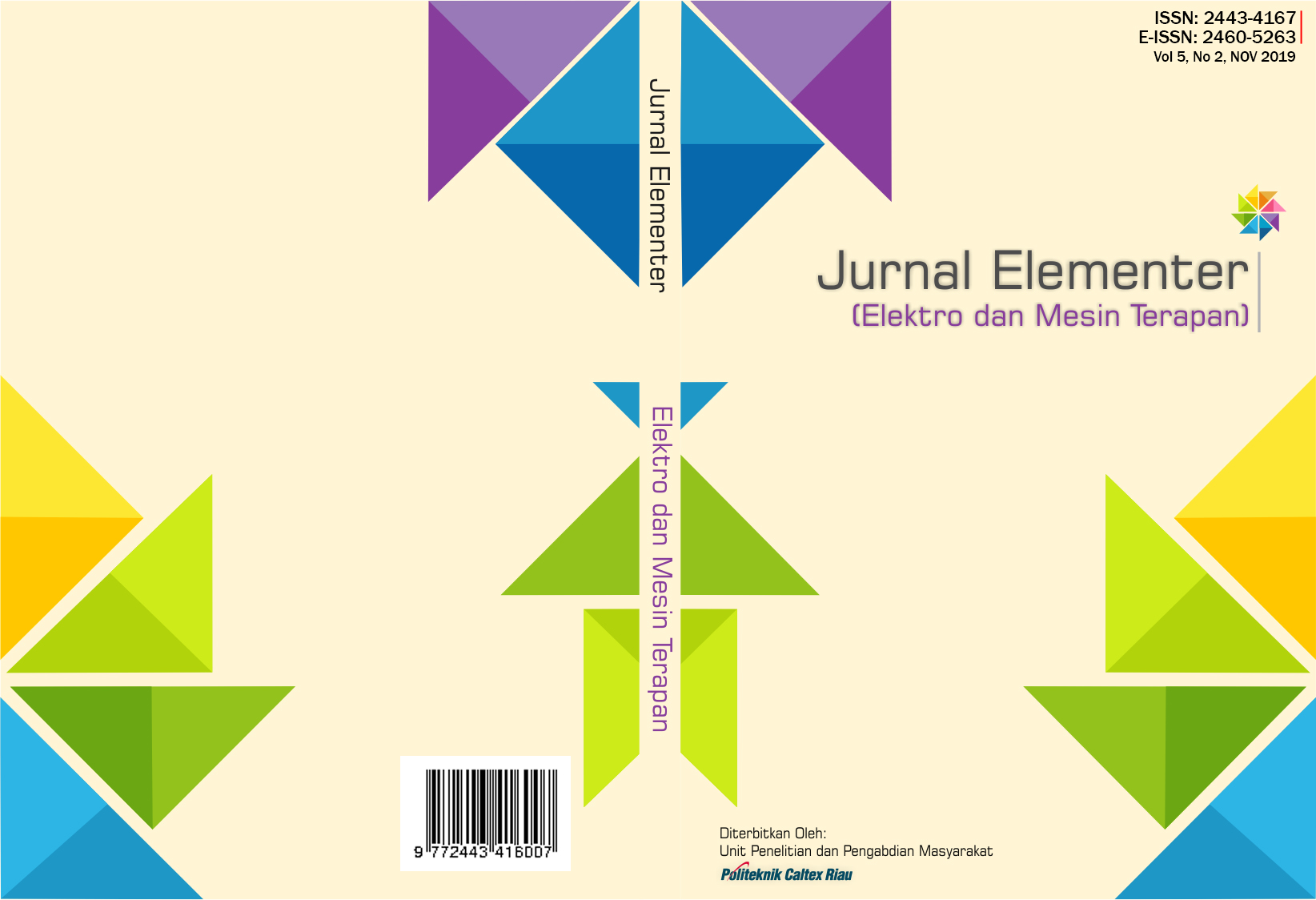 Copyright (c) 2019 Cyntia Widiasari
This work is licensed under a Creative Commons Attribution-NonCommercial-ShareAlike 4.0 International License.
Authors who publish with this journal agree to the following terms:
a. Authors retain copyright and grant the journal right of first publication with the work simultaneously licensed under a Creative Commons Attribution License that allows others to share the work with an acknowledgement of the work's authorship and initial publication in this journal.
b. Authors are able to enter into separate, additional contractual arrangements for the non-exclusive distribution of the journal's published version of the work (e.g., post it to an institutional repository or publish it in a book), with an acknowledgement of its initial publication in this journal.
c. Authors are permitted and encouraged to post their work online (e.g., in institutional repositories or on their website) prior to and during the submission process, as it can lead to productive exchanges, as well as earlier and greater citation of published work.

This work is licensed under a Creative Commons Attribution 4.0 International License.