Analisis Sistem Pengaman Menara Seluler Smartfren Pada Perumahan Masyarakat Di Kelurahan Umban Sari
Abrar tanjung

Universitas Lancang Kuning

Elvira Zondra

Universitas Lancang Kuning
Abstract
Petir merupakan peristiwa alam berupa pelepasan energi sesaat (energy storage) berupa rangkaian aliran listrik yang sangat besar yang akan di lepaskan oleh alam semesta dengan tujuan ke bumi yang bersifat netral. Untuk mengatasi Bahaya yang ditimbulkan akibat adanya sambaran petir penelitian dilakukan dengan menggunakan metoda bola gelinding (rolling sphere) dan sistem pentanahan yang tedapat pada menara Smartfren sebagai sistem pengaman dalam melindungi dan mengurangi dampak kerusakan pada perumahan masyarakat. Berdasarkan hasil analisa pembahasan diperoleh Elektroda Vinial sebagai penangkal petir yang dipasang pada menara PT. Smartfren mampu untuk melindungi perumahan atau bangunan yang berada di area menara dengan sudut lindung 25,98° dengan jarak sudut lindung sebesar 128,15 meter. Besar nilai tahanan pentanahan yang dipasang pada area menara PT. Smartfren sebesar 59,5 ohm.
References
Abdul Hadi, As Pabla, Sistem Distribusi Daya Listrik, Erlangga, Cetakan Pertama, 1994.
Aris A. Munandar, Teknik Tegangan Tinggi, Pradnya Paramita, Cetakan kedelapan, 2001.
LIPI, "Peraturan Umum Penangkal Petir untuk Bangunan di Indonesia", Direktorat Penyelidikan Masalah bangunan, Jakarta, 2006.
Lestari Naomi, Analisis Pemetaan Sambaran Petir Akibat Bangunan Bts Terhadap Lingkungan Dan Sekitarnya Di Kota Medan, Jurnal Meteorologi dan Geofisika, vol 11 no 2 Nopember, 2010.
Hutauruk, " Gelombang Berjalan dan proteksi Surja, Erlangga, Jakarta, 1991
Hutaruruk, "Pengetanahan Netral Sistem Tenaga", Erlangga, Jakarta, 1991.
Spannur Bandri, "Sistem Proteksi Petir Internal Dan Ekternal", Jurnal Teknik Eletro ITP, Volume 3 No. 1; Januari 2014
Zoro, Reynaldo, "Pelatihan Sistem proteksi dan Sistem Grounding", ITB, Bandung, 2008.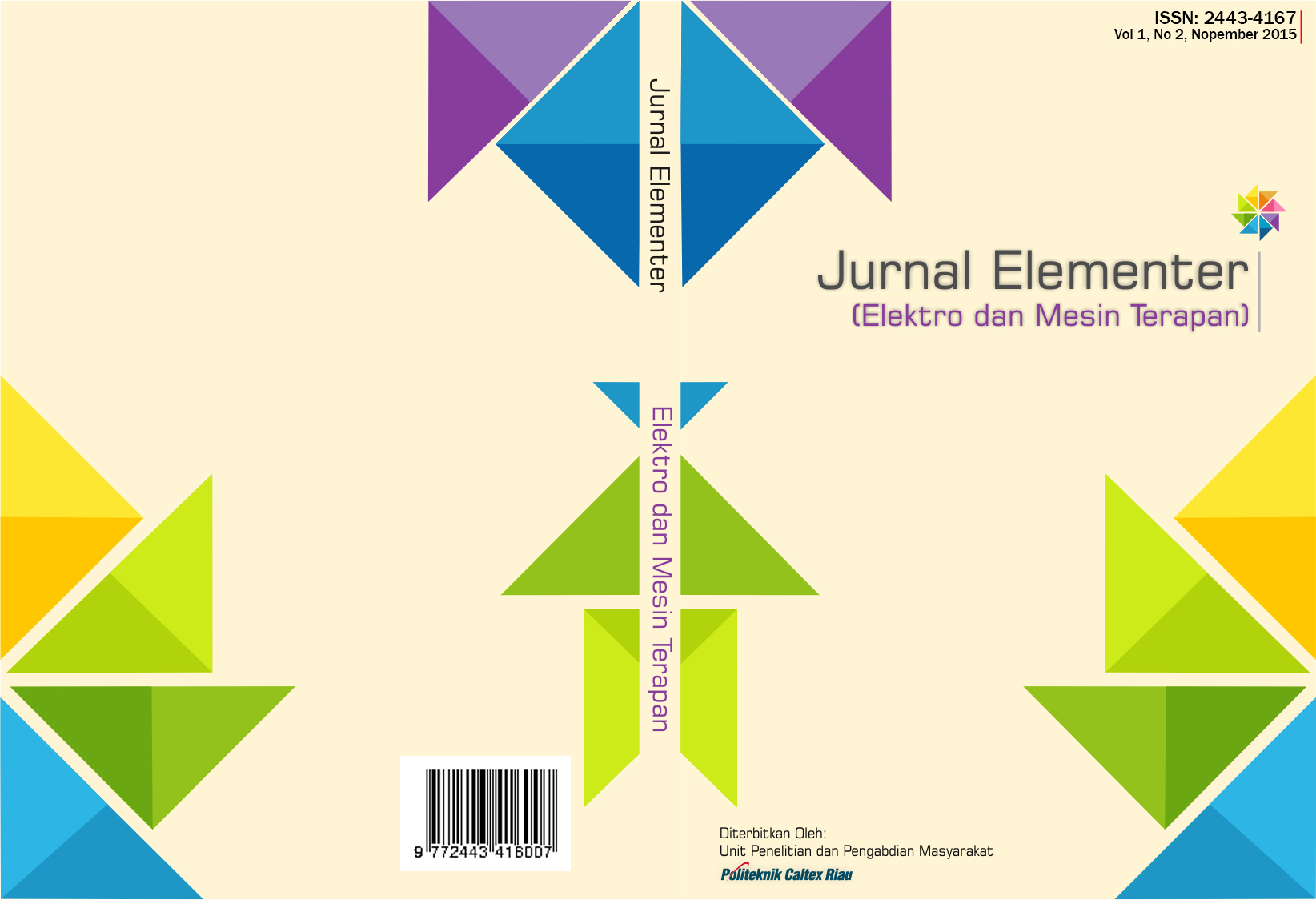 Copyright (c) 2015 abrar tanjung tanjung
This work is licensed under a Creative Commons Attribution-NonCommercial-ShareAlike 4.0 International License.
Authors who publish with this journal agree to the following terms:
a. Authors retain copyright and grant the journal right of first publication with the work simultaneously licensed under a Creative Commons Attribution License that allows others to share the work with an acknowledgement of the work's authorship and initial publication in this journal.
b. Authors are able to enter into separate, additional contractual arrangements for the non-exclusive distribution of the journal's published version of the work (e.g., post it to an institutional repository or publish it in a book), with an acknowledgement of its initial publication in this journal.
c. Authors are permitted and encouraged to post their work online (e.g., in institutional repositories or on their website) prior to and during the submission process, as it can lead to productive exchanges, as well as earlier and greater citation of published work.

This work is licensed under a Creative Commons Attribution 4.0 International License.