Perancangan Laser Harpa
Bonni Bonni

Politeknik Caltex Riau

Luqman Hakim

Politeknik Caltex Riau

edilla edilla

Politeknik Caltex Riau
Abstract
Salah satu alat musik klasik yang hampir ditinggalkan atau jarang dimainkan adalah alat musik harpa. Seperti halnya di Indonesia alat musik harpa sudah sangat jarang dimainkan atau ditampilkan pada pergelaran alat musik. Agar alat musik harpa tidak dilupakan dan mudah diingat kembali, Maka telah diciptakan suatu alat musik harpa yang modern yang berbasis teknologi yang menggunakan laser sebagai pengganti dawai penghasil nadanya. Mikrokontroler ATMega8535 digunakan sebagai otak pengaturan alat ini. Sensor LDR merupakan indikator pengaktifan nada, dan sensor PING dijadikan sebagai pembagi tinggi dan rendahnya oktaf nada tersebut. Dimana dawai laser diputus di atas dan di bawah akan menghasilkan nada yang sama tetapi oktaf nya berbeda. ATMega8535 akan mengeluarkan output dengan frekuensi yang berbeda beda kemudian diteruskan kepada amplifier(penguat) dan speaker digunakan sebagai output akhir berupa bunyi nada. Hasil akhir yang di hasilkan laser harpa adalah suara degan frekuensi yang sesuai dengan nada-nada standar. Dengan pembuatan laser harpa ini telah menghasilkan generasi muda lebih terpacu dan inovatif dalam mengembangkan ilmu baik di bidang teknologi maupun di bidang seni.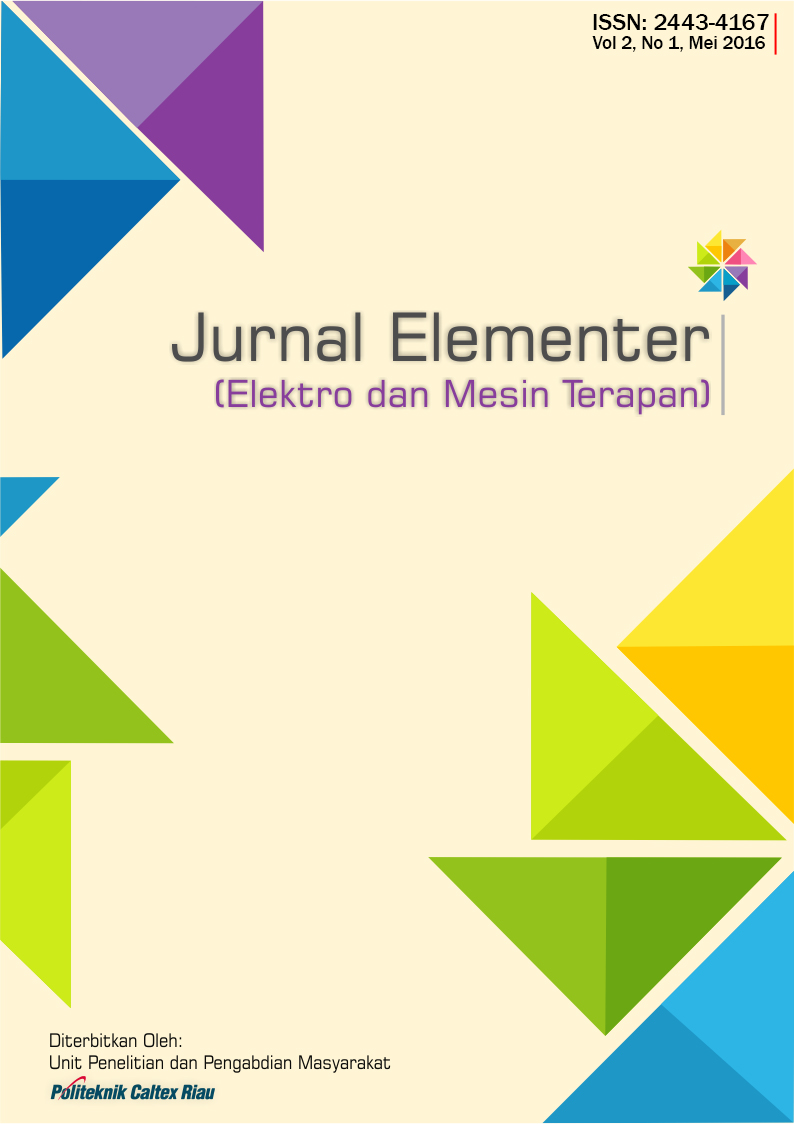 Copyright (c) 2016 Bonni Bonni, Luqman Hakim, edilla edilla
This work is licensed under a Creative Commons Attribution-NonCommercial-ShareAlike 4.0 International License.
Authors who publish with this journal agree to the following terms:
a. Authors retain copyright and grant the journal right of first publication with the work simultaneously licensed under a Creative Commons Attribution License that allows others to share the work with an acknowledgement of the work's authorship and initial publication in this journal.
b. Authors are able to enter into separate, additional contractual arrangements for the non-exclusive distribution of the journal's published version of the work (e.g., post it to an institutional repository or publish it in a book), with an acknowledgement of its initial publication in this journal.
c. Authors are permitted and encouraged to post their work online (e.g., in institutional repositories or on their website) prior to and during the submission process, as it can lead to productive exchanges, as well as earlier and greater citation of published work.

This work is licensed under a Creative Commons Attribution 4.0 International License.