Antena Mikrostrip Broadband Monopole Patch Segitiga Untuk Aplikasi RF Power Harvesting Pita Frekuensi 1700-2500 MHz
Rizadi Sasmita Darwis

Politeknik Caltex Riau
Abstract
Semakin banyaknya perangkat-perangkat bergerak yang diaplikasikan pada berbagai bidang saat ini menuntut adanya catu daya yang portabel dan tidak tergantung pada catu dari jala-jala listrik. Teknik energy harvesting muncul sebagai sumber energi ramah lingkungan, yang menjadi alternatif bagi sumber energi yang ada. Antena merupakan suatu bagian penting dalam membangun  sistem RF power harvesting. Antena memiliki peranan merubah gelombang elektromagnetik tidak terbimbing menjadi gelombang elektromagnetik terbimbing, kemudian dapat diteruskan ke rangkaian rectifier hingga menghasilkan tegangan DC sebagai sumber energi. Pada penelitian ini dilakukan perancangan dan pembuatan antena mikrostrip broadband monopole untuk aplikasi RF power harvesting pada band frekuensi GSM 1800 MHz, 2100 MHz serta WIFI 2400 MHz. Antena mikrostrip dirancang menggunakan patch segitiga. Hasil simulasi menunjukkan band frekuensi operasi berdasarkan grafik return loss < -10 dB pada 1,13 GHz – 2,66 GHz dengan bandwidth 80,73 %. Hasil implementasi dan pengukuran diperoleh band frekuensi antena bekerja untuk syarat return loss<-10 dB pada 1,09 GHz-2,54 GHz dengan bandwidth 79,88%. Polaradiasi antena hasil pabrikasi menggambarkan direksional dengan gain pengukuran pada frekuensi 2.1 GHz sebesar 4.77 dB dan frekuensi 2.4 GHz sebesar 5.09 dB. Tegangan keluaran sistem power harvesting sebesar 600.5 mV diperoleh dalam waktu 60 menit.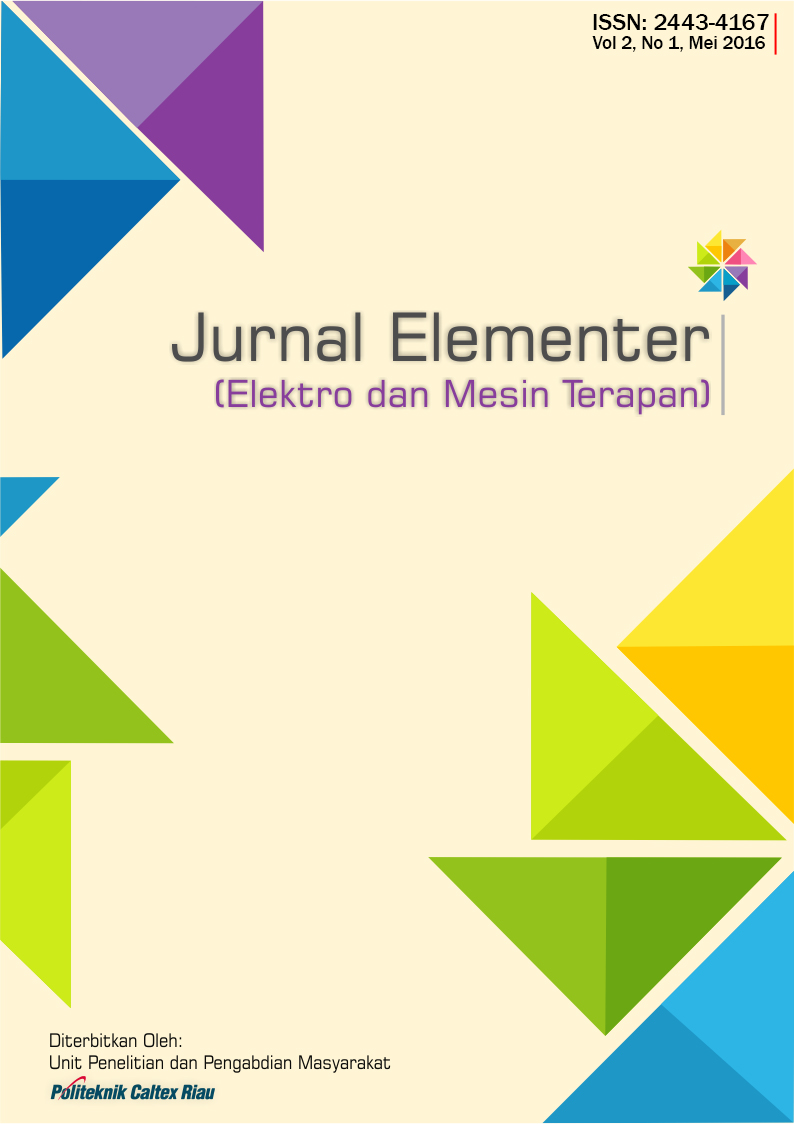 Copyright (c) 2016 Rizadi Sasmita Darwis
This work is licensed under a Creative Commons Attribution-NonCommercial-ShareAlike 4.0 International License.
Authors who publish with this journal agree to the following terms:
a. Authors retain copyright and grant the journal right of first publication with the work simultaneously licensed under a Creative Commons Attribution License that allows others to share the work with an acknowledgement of the work's authorship and initial publication in this journal.
b. Authors are able to enter into separate, additional contractual arrangements for the non-exclusive distribution of the journal's published version of the work (e.g., post it to an institutional repository or publish it in a book), with an acknowledgement of its initial publication in this journal.
c. Authors are permitted and encouraged to post their work online (e.g., in institutional repositories or on their website) prior to and during the submission process, as it can lead to productive exchanges, as well as earlier and greater citation of published work.

This work is licensed under a Creative Commons Attribution 4.0 International License.