Estimasi Posisi Objek Dalam Gedung Menggunakan GSM Fingerprint
Abstract
Sebagian besar penelitian estimasi posisi objek dalam gedung berdasarkan pada penggunaan sinyal jarak pendek, seperti WiFi, Bluetooth, ultra sound, dan infrared. Dalam penelitian ini dibahas estimasi posisi objek dalam gedung menggunakan Global System for Mobile Communication (GSM). Penggunaan GSM mempunyai kelebihan pada jangkauan area yang luas. Penentuan posisi objek menggunakan Receive Signal Strength (RSS) GSM fingerprint. Skenario percobaan dilakukan dengan jumlah Cell-ID sebanyak 2, 3 dan 4 Cell-ID. Estimasi posisi pada tahap positioning menggunakan metode k- Nearest Neighbour ( k-NN ). Hasil estimasi posisi menunjukkan adanya pengaruh jumlah Cell-ID terhadap jarak kesalahan rata-rata minimum. Dari 10 kali percobaan GSM dan Wi-fi terdapat akurasi GSM sebesar 26% , sedangkan Wi-fi mempunyai akurasi 22%. Keakurasian data ini di pengaruhi oleh nilai daya yang diterima receiver, dimana daya GSM lebih sensitif dibandingkan dengan Wi-fiKata kunci: Estimasi posisi objek dalam gedung, Global System for Mobile Communication (GSM), Receive Signal Strength (RSS), Fingerprinting), k- Nearest Neighbour (k-NN).
References
R. A. S. (Politeknik C. R. 2014, "Wireless Positioning System ( WPS ) Menggunakan Algoritma k- Nearest Neighbor ( k-NN ) di area Kampus Politeknik Caltex Riau,†no. 1, pp. 1–7, 2014.
M. Saputra, "Aplikasi Otomatisasi Fingerprinting Pada WPS Menggunakan Multi Wall Model Pada Area Kampus Politeknik Caltex Riau,†2014.
A. Kurniawan, "IMPLEMENTASI WIRELESS POSITIONING SYSTEM (WPS) PADA AREA KAMPUS POLITEKNIK CALTEX RIAU BERBASIS ANDROID,†2013.
H. Rubiani and L. E. Nugroho, "Estimasi Posisi Objek dalam Gedung Berdasarkan GSM Fingerprint,†vol. 1, no. 3, 2012.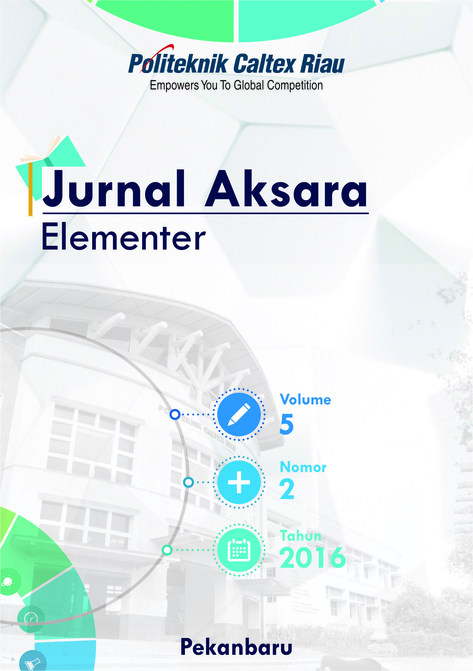 Downloads
License
Copyright info for authors
1. Authors hold the copyright in any process, procedure, or article described in the work and grant the journal right of first publication with the work simultaneously licensed under a Creative Commons Attribution License that allows others to share the work with an acknowledgement of the work's authorship and initial publication in this journal.
2. Authors retain publishing rights to re-use all or portion of the work in different work but can not granting third-party requests for reprinting and republishing the work.
3. Authors are permitted and encouraged to post their work online (e.g., in institutional repositories or on their website) as it can lead to productive exchanges, as well as earlier and greater citation of published work.