Analisa Perbandingan Clustered File System menggunakan MooseFS dan GlusterFS
Abstract
Teknologi telah banyak memberikan kemudahan terutama dalam mendapatkan informasi. Tidak hanya itu, banyak aspek kehidupan yang bergantung pada teknologi yang semakin berkembangan. Perkembangan tersebut juga harus didukung dengan media penyimpanan yang memiliki kapasitas yang besar, karena semakin lama perkembangan data juga semakin banyak dan memiliki ukuran yang besar. Media penyimpanan yang besar sangat dibutuhkan bagi sebuah organisasi maupun sebuah perusahaan, terutama untuk mengelola dan menyimpan sebuah data. Dengan permasalahan tersebut maka dibangun sebuah data center dengan menggabungkan storage dari beberapa komputer dengan memanfaatkan teknologi clustered file system. Datacenter dibangun menggunakan teknlogi Clustered file system dengan memanfaatkan aplikasi MooseFS dan GlusterFS. Aplikasi tersebut merupakan aplikasi open source yang dapat digunakan untuk menggabungkan partisi dari beberapa komputer. Client dapat melakukan aktifitas upload dan download untuk menguji kelayakan data center yang dibangun. Selain itu client dapat melihat persentase penggunaan memory dan CPU pada data center dan melihat throughput yang terjadi pada saat data center diakses menggunakan aplikasi wireshark. Dengan pengujian dan analisa maka diperoleh hasil bahwa penggabungan storage menggunakan GlusterFS menghasilkan storage dengan kapasitas yang lebih besar dibanding MooseFS; MooseFS memiliki persentase kecepatan rata-rata transfer lebih tinggi dibanding dengan GlusterFS; GlusterFS dan MooseFS memiliki tingkat keberhasilan transfer data yang sama tinggi, yaitu masing-masing 100%.Kata kunci: Data Center, Clustered file system, MooseFS, GlusterFS
References
Yudianto, M. J. N. (2007). Jaringan Komputer Dan Pengertiannya, 1–10.
Lestariningati, S. I., & Rozak, F. (N.D.). Pembangunan Aplikasi Monitoring Jaringan Berbasis Web Menggunakan Simple Network
Gunawan, B. A. (2011). Membangun Firewall Pada Server Linux Centos 5.5 Sebagai Security Jaringan Internet
Dewannanta, D. (2007). Perancangan Jaringan Komputer-Data Center, 1–6.
Kristianto, E. D. (2013). Clustering Komputer, 1–4..
Maktum, F., S, A. M., Suadi, W., Arief, J., & Hakim, R. (2012). Hybrid File System Pada Nand-Flash Ssd Dan Hdd Menggunakan Filesystem In User Space ( Fuse ), 1(1), 1–6.
Ningsih, Y. K., Susila, T., & Ismet, R. F. (2004). Analisis Quality Of Service ( Qos ) Pada Simulasi Jaringan Multiprotocol Label Switching Virtual Private Network ( Mpls Vpn ), 3, 33–48.
Features, Architecture And Requirements __ Moosefs Network File System - Moose Fs. (N.D.). Retrieved From Http://Moosefs.Org/
Suyadi. (2011). Membuat Media Penyimpanan Terdistribusi Disusun Oleh : Suyadi Universitas Muhammadiyah Surakarta.
Susandi, H., & Pinem, M. (2014). ANALISIS KUALITAS LAYANAN DATA PADA JARINGAN TELEKOMUNIKASI BERBASIS CDMA EVDO Rev . A, 6(2), 93–98.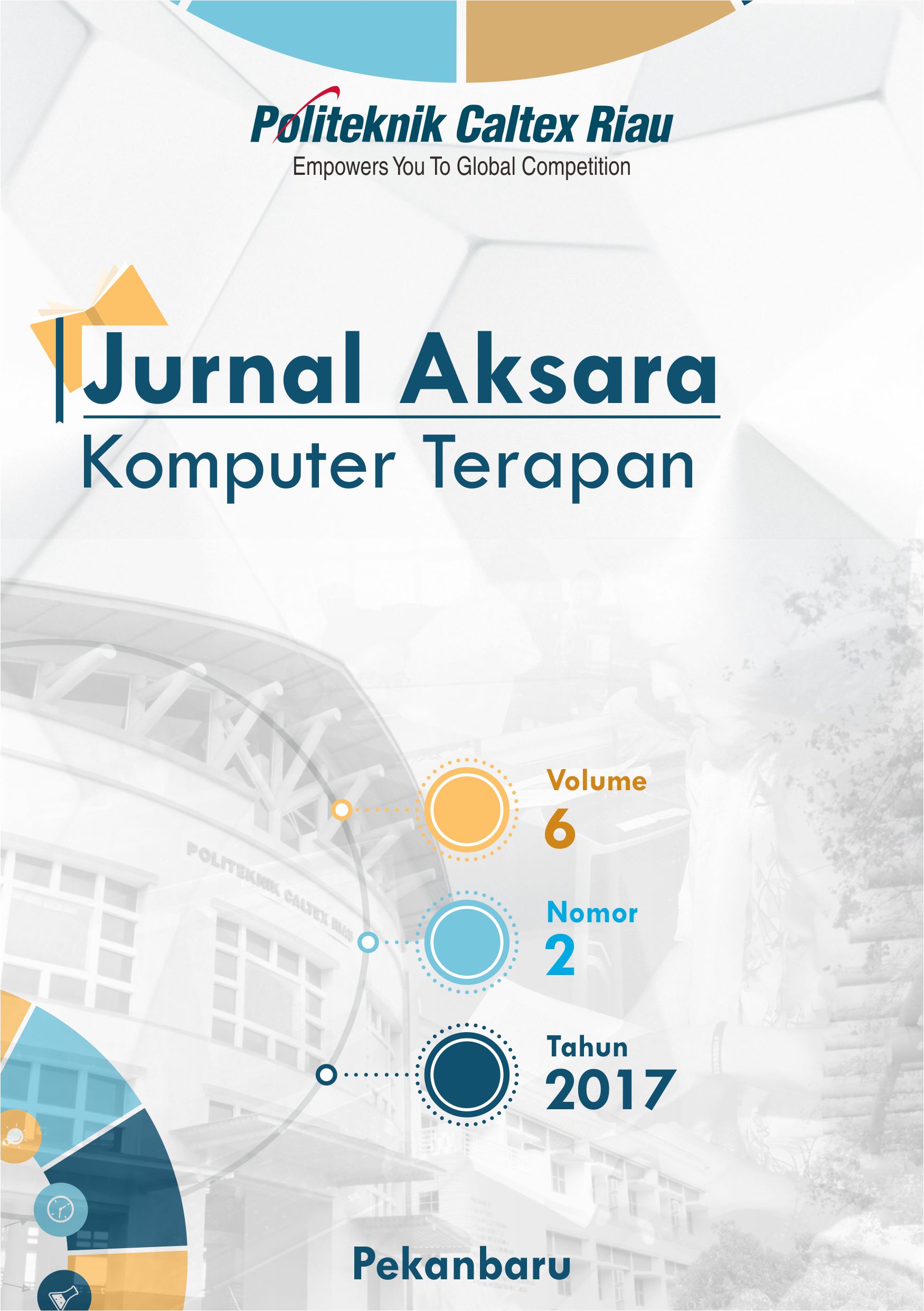 Downloads
License
Copyright info for authors
1. Authors hold the copyright in any process, procedure, or article described in the work and grant the journal right of first publication with the work simultaneously licensed under a Creative Commons Attribution License that allows others to share the work with an acknowledgement of the work's authorship and initial publication in this journal.
2. Authors retain publishing rights to re-use all or portion of the work in different work but can not granting third-party requests for reprinting and republishing the work.
3. Authors are permitted and encouraged to post their work online (e.g., in institutional repositories or on their website) as it can lead to productive exchanges, as well as earlier and greater citation of published work.