Analisa Quality of Service Video Live Streaming Server dengan Openmeetings dan Bigbluebutton
Abstract
Sebagian kendala bagi beberapa kalangan untuk bertemu dan tatap muka adalah tempat. Teknologi jaringan dan internet saat ini memungkinkan untuk saling tatap muka meskipun tidak pada tempat yang sama, diantaranya web conference dan live streaming. Live streaming merupakan proses pengiriman data secara terus menerus di internet. Hal ini sangat berguna bagi siapa saja yang membutuhkan informasi. Seiring berjalannya waktu, live Streaming berbasis aplikasi semakin berkembang dalam hal fitur-fitur yang dimiliki. Dari keseluruhan aplikasi live streaming, terdapat dua aplikasi yang memiliki beberapa fitur yang sama, yaitu Openmeetings dan Bigbluebutton. Aplikasi-aplikasi tersebut tentunya memiliki kualitas yang berbeda. Pada penelitian ini dilakukan analisa perbandingan Quality of Service (Qos) antara Openmeetings dan Bigbluebutton. Parameter yang digunakan pada QoS live streaming ini diantaranya adalah delay dan throughput. Dengan pengujian dan analisa maka diperoleh hasil bahwa Bigbluebutton memiliki nilai kualitas video conference lebih baik dibandingkan dengan Openmeetings pada jaringan Public-Local, Local-Public dan Local-Local.Kata kunci: Live Streaming, Quality of Service, Openmeetings, Bigbluebutton, Wireshark.
References
Apostolopoulos, J. G., Tan, W., & Wee, S. J. (2002). Video Streaming: Concepts, Algorithms, and Systems. HP Laboratories Palo Alto, HPL-2002-2.
Irsan, M., Kunang, Y. N., Universitas, M., Darma, B., Universitas, D., Darma, B., … Palembang, N. (2013). Pengembangan Virtual Class Untuk Pembelajaran Jarak
Jauh Berbasis Bigbluebutton Di Universitas Bina Darma.
Sugeng, W., Istiyanto, J. E., Mustofa, K., & Ashari, A. (2015). The Impact of QoS Changes towards Network Performance. International Jurnal of Computer Networks and Communications Security, 3(2), 48–53. Retrieved from http://www.ijcncs.org/published/volume3/issue2/p5_3-2.pdf
Kumara, I. M. W. (2014). IMPLEMENTASI TELECONFERENCE PADA MOODLE DENGAN APACHE OPENMEETINGS, 13(1), 3–7.
Bigbluebutton. (2016). Apache Openmeetings. Diambil 26 Maret 2016 dari http://bigbluebutton.org/
Lestariningati, S. I., & Rozak, F. (N.D.). Pembangunan Aplikasi Monitoring Jaringan Berbasis Web Menggunakan Simple Network Management Protocol ( Snmp ), 12(2), 211–222.
WAHYUDI, R. P. N. (2012). Kupas Tuntas Ubuntu. Kupas Tuntas Ubuntu - POLITEKNIK ELEKTRONIKA NEGERI SURABAYA.
Rosnelly, R., & Pulungan, R. (2011). Membandingkan Analisa Traffic antara WireShark dan NMap. In Prosiding Konferensi Nasional Sistem Informasi (KNSI) 2011 (pp. 936–947).
Efvy Z. (2011). Buku Sakti Hacker - Efvy Zam - Google Books. Jakarta Selatan. Retrieved from https://goo.gl/8ERjR1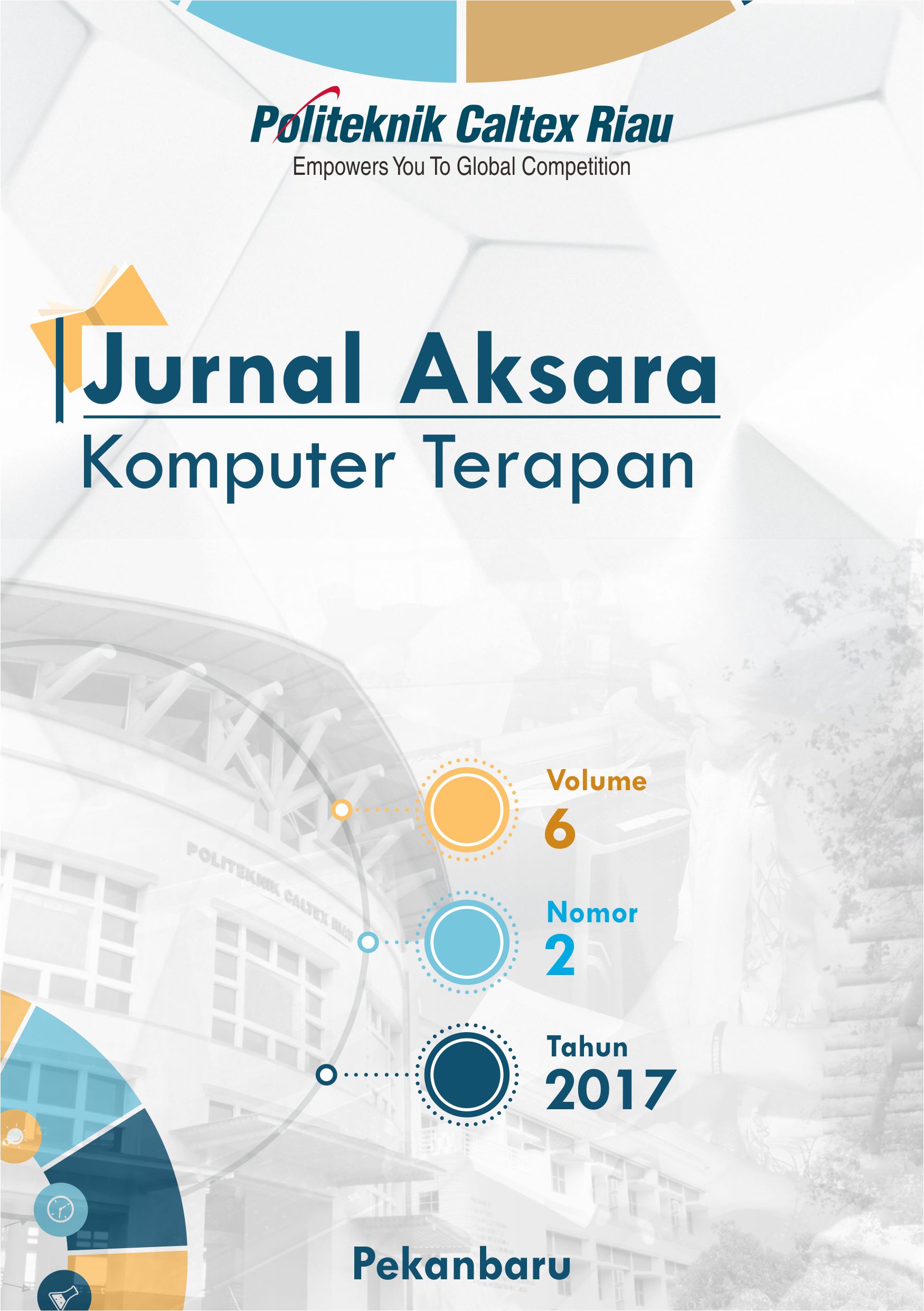 Downloads
License
Copyright info for authors
1. Authors hold the copyright in any process, procedure, or article described in the work and grant the journal right of first publication with the work simultaneously licensed under a Creative Commons Attribution License that allows others to share the work with an acknowledgement of the work's authorship and initial publication in this journal.
2. Authors retain publishing rights to re-use all or portion of the work in different work but can not granting third-party requests for reprinting and republishing the work.
3. Authors are permitted and encouraged to post their work online (e.g., in institutional repositories or on their website) as it can lead to productive exchanges, as well as earlier and greater citation of published work.