Sistem Pendeteksi Objek Menggunakan IP Camera dan Metode Dynamic Background
Abstract
Pendeteksian objek pada citra merupakan topik utama dalam bidang pengolahan citra digital. Pengolahan citra merupakan proses analisis citra yang banyak melibatkan persepsi visual. Alat yang digunakan untuk menangkap citra adalah IP Camera. Sistem ini menggunakan IP Camera untuk menangkap citra dan diolah menggunakan teknik Dynamic Background. Metode Dynamic Background dilakukan dengan membandingkan citra tertentu dengan citra yang dijadikan sebagai referensi  secara dinamis untuk mendapatkan informasi objek yang terdeteksi. Informasi yang didapatkan lalu dikirimkan melalui e-mail. Berdasarkan pengujian yang telah dilakukan, sistem memiliki tingkat akurasi sebesar 90%. Dengan tingkat keakurasian sistem sebesar 90% sistem dapat digunakan untuk mendeteksi objek.Kata kunci: IP Camera, Dynamic Background, E-mail
References
Zul, M.I., Widyawan, & Nugroho, L.E. (November 2012). Rancang Bangun Sistem Pendeteksi Gerak Berbasis Web dengan Menggunakan Metode Frame Differences dan Dynamic Template Matching. The 9th International Conference on Ubiquitous Robot and Ambience Intelligence (URAI). Daejeon.
Syofyan, S. (2016). Sistem Pendeteksi Keberadaan Objek Dengan Menggunakan IP Camera dan Metode Frame Differences. Jurnal Aksara Komputer Terapan Politeknik Caltex Riau, 5(2), 115-123.
Wildian, & Marnita, O. (2013). Sistem Penginformasi Keberadaan Orang Di Dalam Ruang Tertutup Dengan Running Text Berbasis Mikrokontroler dan Sensor PIR (Passive Infrared). Prosiding Seminar Semirata FMIPA, 1(1), 25-34.
Tungganai, A. (2015). Sistem Pendeteksi Parkir Liar Berbasis Arduino. Jurnal Aksara Komputer Terapan Politeknik Caltex Riau, 4(1), 36-42.
Apriyani, M. E., & Tandi, D. R. (Oktober 2013). Aplikasi Deteksi Gerak Objek. Seminar Nasional Applied Business and Engineering. Batam: Politeknik Negeri Batam.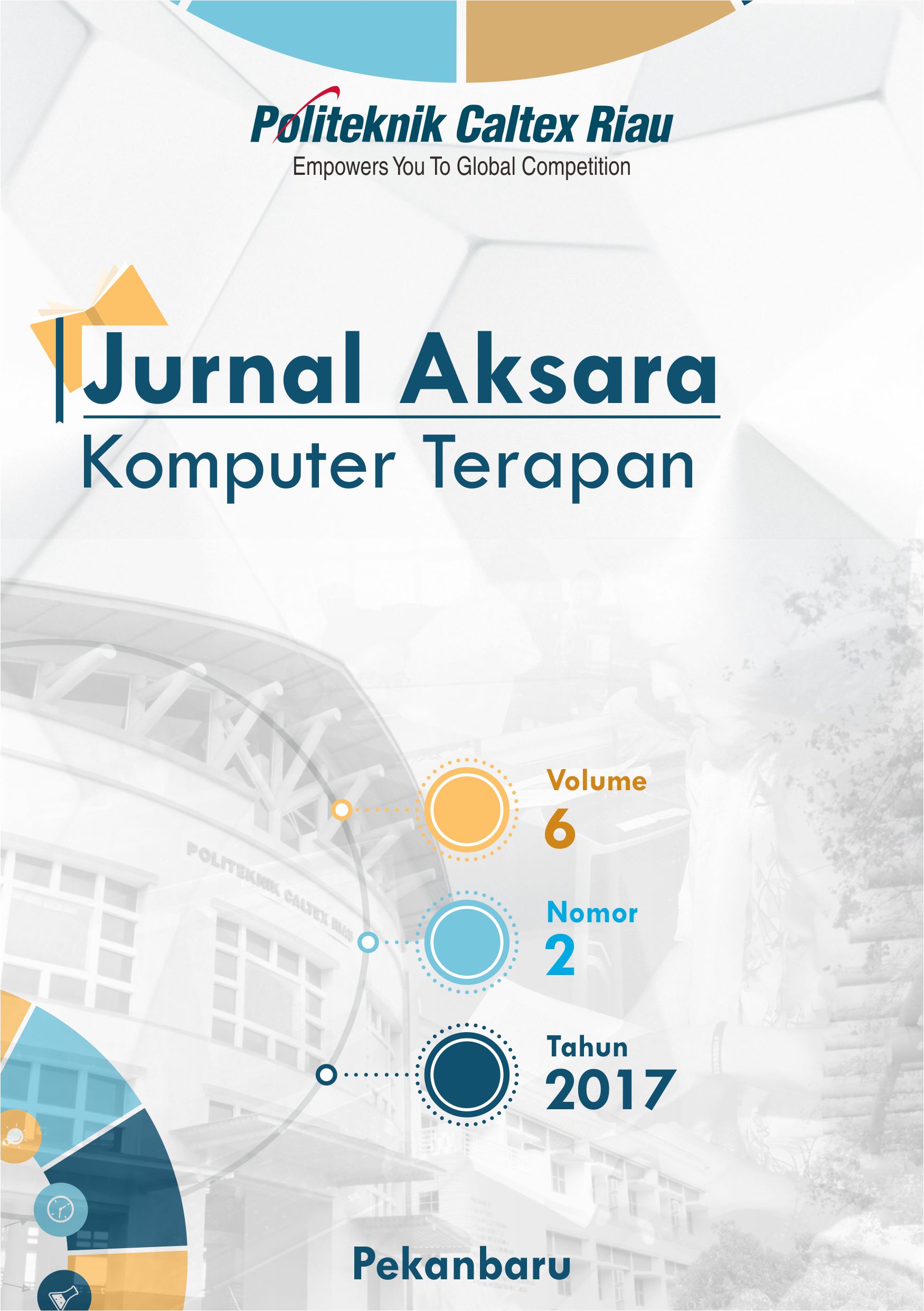 Additional Files
License
Copyright info for authors
1. Authors hold the copyright in any process, procedure, or article described in the work and grant the journal right of first publication with the work simultaneously licensed under a Creative Commons Attribution License that allows others to share the work with an acknowledgement of the work's authorship and initial publication in this journal.
2. Authors retain publishing rights to re-use all or portion of the work in different work but can not granting third-party requests for reprinting and republishing the work.
3. Authors are permitted and encouraged to post their work online (e.g., in institutional repositories or on their website) as it can lead to productive exchanges, as well as earlier and greater citation of published work.