Implementasi E-Commerce Menggunakan Metode UCD (User Centered Design) Berbasis Web
Abstract
Pertumbuhan pesat pangsa pasar e-commerce di Indonesia memang sudah tidak bisa diragukan lagi. Dengan jumlah pengguna internet yang mencapai angka 82 juta orang atau sekitar 30% dari total penduduk di Indonesia, pasar e-commerce menjadi tambang emas yang sangat menggoda bagi sebagian orang yang bisa melihat potensi ke depannya. Pertumbuhan ini didukung dengan data yang menyebutkan bahwa nilai transaksi e-commerce pada tahun 2013 mencapai angka Rp130 triliun.. Ada banyak e-commerce yang sukses mendapatkan keuntungan, ada juga yang tidak. Menurut penelitian yang dilakukan oleh User Interface Engineering, Inc. diketahui 59% waktu terbuang karena orang tidak bisa menemukan informasi yang ingin didapat dan hal ini berdampak pada penurunan produktifitas dan meningkatkan frustasi. Sebuah laporan menunjukkan bahwa 39% dari pembeli tes dan gagal dalam upaya pembelian mereka karena navigasi pada situs yang sulit. Untuk membuat sebuah e-commerce yang user-friendly dengan tingkat usability yang tinggi pada e-commerce tersebut, salah satu solusinya melakukan pengembangan e-commerce menggunakan metode User Centered Design (UCD). Sistem yang telah dibangun dengan menerapkan metode UCD ini mendapatkan hasil 98.3% menyatakan akan berbelanja di e-commerce Putri Intan Shop.Kata kunci: User Centered Design, E-Commerce, Kuesioner, Usability
References
Kementerian Komunikasi dan Informasi Indonesia. (8 Mei 2017). Kemkominfo: Pengguna Internet Indonesia Nomor Enam Dunia. Diambil 7 Juni 2017 dari https://kominfo.go.id/content/detail/4286/pengguna-internet-indonesia-nomor-enam-dunia/0/sorotan_media
UX Mastery. (t.t). UX Techniques. Diambil pada 31 Mei 2016 dari
http://uxmastery.com/resources/techniques
Usability.gov (t.t). Usability Testing. Diambil 31 Mei 2016 dari
www.usability.gov/how-to-and-tools/methods/usabilitytesting.html
Widhiarso, W., Jessianti., Sutini. (2007). Metode UCD (User Centered Design) Untuk Rancangan Kios Informasi Studi Kasus : Rumah Sakit Bersalin XYZ. Algoritma(3)
Liang, C., Chou, W., Hsu, Y. (2009). A User-Centered Design Approach to Develop a Web-Based Instructional Resources System for Homeland Education. An International Journal. 71-73
Laudon, K. C., Travis, J. (2002). E-Commerce: Bussiness. Technology. Society. United States of America: Prentice Hall.
Henry, S. L. (1 April 2004). Notes on User-Centered Design Process (UCD). Diakses 3 Januari 2017 dari http://www.w3.org/WAI/EO/2003/ucd.
Nielson, Jacob, Usability 101:Introduction to usability. Diakses November 2016 dari
http://www.useit.com/alertbox/20030825.html
Pressman, Roger. S (2010). Software Engineering: A Practitioner's Approach, Seventh (7th) Edition. New York: McGraw-Hill.
Putra, R. S. (2015). Pengembangan Personalisasi Website E-Commerce Berbasis Metode User centered design. Politeknik Caltex Riau : Pekanbaru.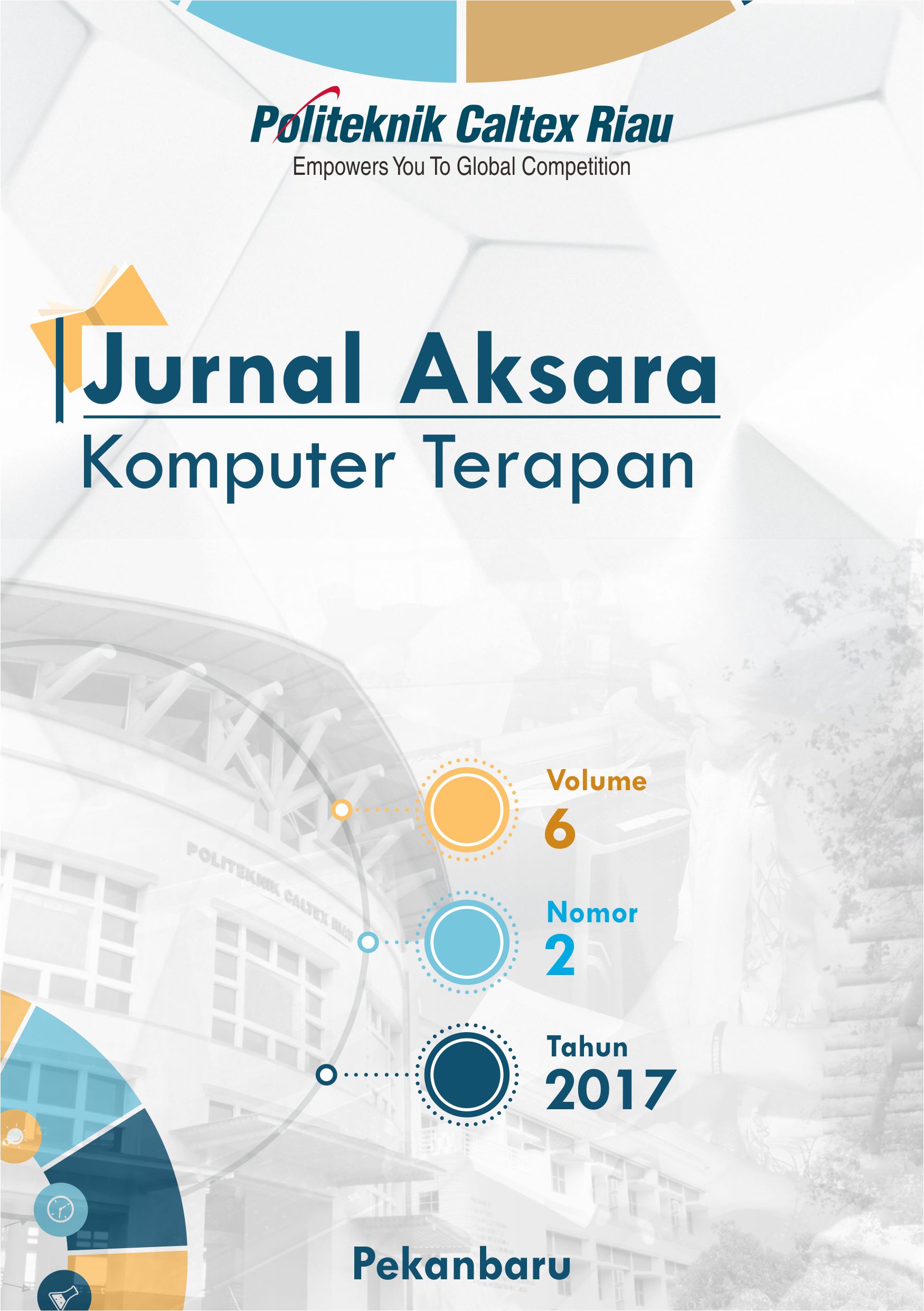 Downloads
License
Copyright info for authors
1. Authors hold the copyright in any process, procedure, or article described in the work and grant the journal right of first publication with the work simultaneously licensed under a Creative Commons Attribution License that allows others to share the work with an acknowledgement of the work's authorship and initial publication in this journal.
2. Authors retain publishing rights to re-use all or portion of the work in different work but can not granting third-party requests for reprinting and republishing the work.
3. Authors are permitted and encouraged to post their work online (e.g., in institutional repositories or on their website) as it can lead to productive exchanges, as well as earlier and greater citation of published work.