Sistem Informasi Sumber Daya Manusia Berbasis Web (Studi Kasus : Badan Kesatuan Bangsa dan Politik Provinsi Riau)
Abstract
Abstrak Badan Kesatuan Bangsa dan Politik Provinsi Riau memiliki kriteria penilaian kinerja pegawai sejak tahun 2013. Namun, penyimpanan dan penggunaan data penilaiannya menggunakan Microsoft Excel. Beberapa kendala yang terjadi adalah data penilaian kinerja pegawai tidak disimpan dengan aman dan bisa dimanipulasi sendiri oleh pegawai. Untuk mengakomodasi hal tersebut maka dibangunlah sistem informasi manajemen sumber daya manusia yang dapat memberikan kebutuhan dalam menyimpanan data, mengurangi manipulasi data penilaian kinerja, membantu atasan untuk melihat laporan melalui sistem dan menggunakan fuzzy logic metode tsukamoto dalam menentukan tunjangan yang akan diterima. Dari hasil pengujian fungsional (black box testing) dan pengujian UAT sebanyak 2 kali, semua fitur pada sistem telah diimplementasikan dan diterima dengan baik oleh Badan Kesatuan Bangsa dan Politik Provinsi Riau. Berdasarkan hasil pengujian white box yang dilakukan pada metode fuzzy tsukamoto, kode program tersebut memiliki nilai cyclomatic complexity sebanyak 9 dimana tingkat resiko rendah dan tipe prosedur yang terstruktur dengan baik dan stabil. Dan hasil pengujian perbandingan akurasi sistem yang telah dilakukan sebanyak 1 kali, maka sistem yang dibangun memiliki tingkat keakuratan 100%. Kata kunci : Sistem Informasi Sumber Daya Manusia, Fuzzy Logic Metode Tsukamoto Abstract Polytechnic Caltex Riau is one of the best university in Riau province. Every year PCR always open New Student Registration (PMB) for high school students who have completed their education. One of the management's desire in the process of new students admission is to know the level of effectiveness in every aspect and supporters for recruiting new students. Therefore, to create a strategic dashboard for perform the data visualization in order to help marketing and top level management Polytechnic Caltex Riau's decision making process. The objective of this final project is to produce the performance dashboard design based on new student admission data who can determine strategic policy through evaluation process, to know the target that has been achieved for several years and would be help assist the decision making process. PMB data will be processed starting from the stages preprocessing, analysis and visualization. Based on functional testing and usability that has been done, obtained the result of system with success of existing function and the average value of questionnaire result 94% filled by PMB staff. It can be concluded, users strongly agree the system can assist the process of new admissions management in the way to anylizing the data through information that generated by system. Keywords: Business Intelligence, Performance Dashboard, Key Performance Indicators.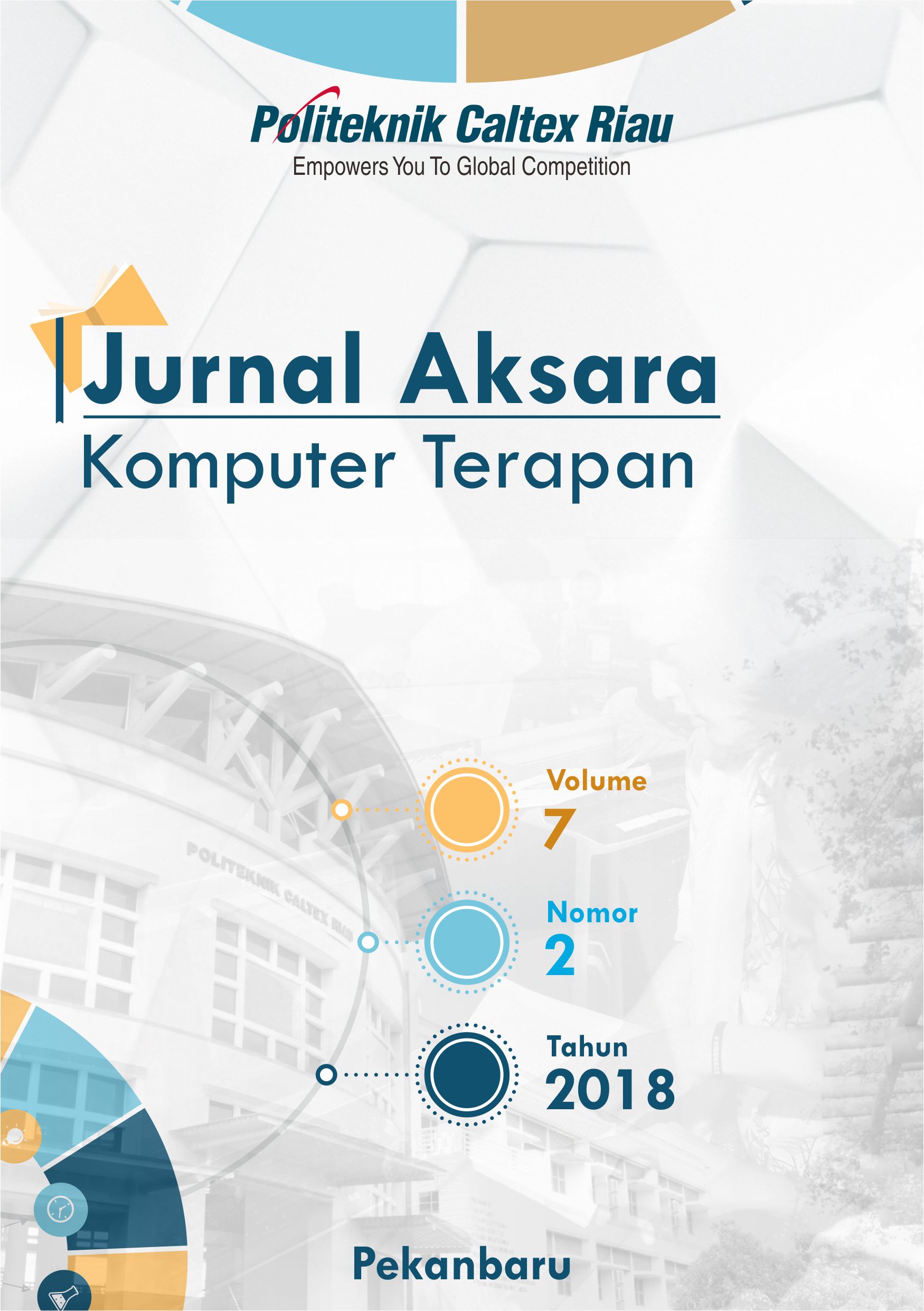 Downloads
License
Copyright info for authors
1. Authors hold the copyright in any process, procedure, or article described in the work and grant the journal right of first publication with the work simultaneously licensed under a Creative Commons Attribution License that allows others to share the work with an acknowledgement of the work's authorship and initial publication in this journal.
2. Authors retain publishing rights to re-use all or portion of the work in different work but can not granting third-party requests for reprinting and republishing the work.
3. Authors are permitted and encouraged to post their work online (e.g., in institutional repositories or on their website) as it can lead to productive exchanges, as well as earlier and greater citation of published work.