Cloud Computing Platform as a Service dengan Dokku
Abstract
Dengan berkembangnya teknologi pada zaman yang modern ini, tentu telah membantu kepentingan banyak orang dalam membuat, mengubah, menyimpan, dan menyebarkan informasi. Munculnya teknologi cloud computing yang memudahkan pekerjaan dengan adanya koneksi internet. Aplikasi berbasis web seperti gmail, facebook dan twitter merupakan layanan dari cloud computing yang dikenal sebagai Software as a Service. Pengembang dapat mengembangkan aplikasi tersebut dengan menggunakan bahasa pemrograman dan tools yang didukung oleh layanan Platform as a Service. Salah satu platform berbasis cloud yang masih aktif dikembangkan hingga saat ini adalah Dokku. Dengan Dokku, pengembang dapat memilih untuk mengembangkan aplikasi dengan berbagai macam bahasa pemrograman, beberapa diantaranya yaitu: Ruby, Node.js, dan Java. Metode pengujian yang dilakukan pada penelitian ini meliputi performance dan portability pada platform, serta deployment time aplikasi yang berjalan di atas platform Dokku. Sebagai hasil, deployment time dan response time aplikasi Node.js adalah yang paling cepat serta menggunakan CPU dan memori paling rendah dibanding Java dan Ruby. Dokku dapat dikategorikan sebagai platform yang portable, mendukung multi-app, multi-user, tetapi tidak mendukung multi-host.
References
Banarjee, S., Gupta, N., & Gupta, V. (2014). Implementation and Management of Framework for PaaS in Cloud Computing. Uttar Pradesh: Academic Science.
Bayu, T. I. (2010). Penerapan Teknologi Virtualisasi Tingkat Sistem Operasi pada Server Linux Ubuntu 8.04 menggunakan OpenVZ. Salatiga: Universitas Kristen Satya Wacana.
Carlson, L. (2013). Programming for PaaS. Sebastopol: O'Reilly Media Inc.
Git. (t.t). About. Diakses 18 Februari 2015, diambil dari http://git-scm.com/about.
Gonidis, F., Paraskakis, I., & Kourtesis, D. (2012). Addressing the Challenge of Application Portability in Cloud Platforms. Thessaloniki: University of Sheffield.
Lindsay, J. (t.t). Dokku Documentation. Diakses 17 Desember 2014, diambil dari http://progrium.viewdocs.io/dokku.
Mahmood, Z. (2013). Cloud Computing Methods and Practical Approaches. London: Springer.
Marinescu, D. C. (2013). Cloud Computing Theory and Practice. Waltham: Elsevier Inc.
Mell, P., & Grace, T. (2011). The NIST Definition of Cloud Computing Recommendations of the National Institute of Standards and Technology. Gaithersburg: National Institute of Standards and Technology.
Proxmox. (t.t). Proxmox Technology. Diakses 14 Januari 2015, diambil dari https://www.proxmox.com/about/proxmox-technology.
Proxmox. (t.t). Proxmox Virtual Environment. Diakses 14 Januari 2015, diambil dari https://www.proxmox.com/proxmox-ve.
Purbo, O. W. (2012). Petunjuk Praktis Cloud Computing Mengunakan Open Source. Yogyakarta: Penerbit ANDI.
Rizani, M. N. (2014). Implementasi Private Platform as a Service Menggunakan Stackato untuk Pemrograman Java (pp. 2–4). Bandung: Telkom University.
Sabharwal, N., & Wali, P. (2013). Cloud Capacity Management. Apress.
Sosinsky, B. (2011). Cloud Computing Bible. Indianapolis: Wiley Publishing Inc.
Ubuntu. (t.t). The Ubuntu Story. Diakses 14 Januari 2015, diambil dari http://www.ubuntu.com/about/about-ubuntu.
Xiong, H. (2014). Scalable Architectures for Platform-as-a-Service Clouds: Performance and Cost Analysis. Dublin: Dublin City University.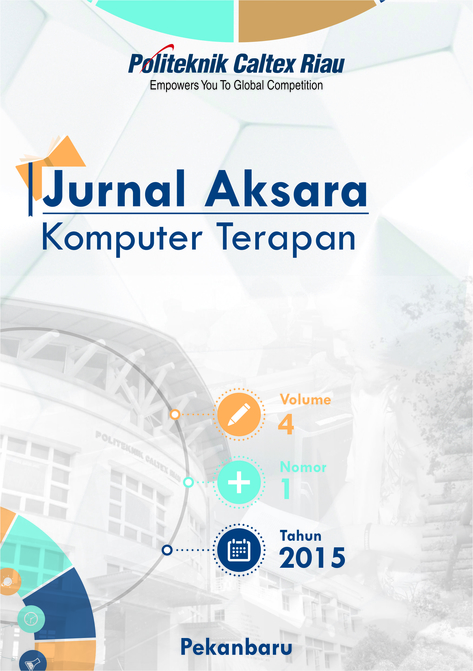 Downloads
License
Copyright info for authors
1. Authors hold the copyright in any process, procedure, or article described in the work and grant the journal right of first publication with the work simultaneously licensed under a Creative Commons Attribution License that allows others to share the work with an acknowledgement of the work's authorship and initial publication in this journal.
2. Authors retain publishing rights to re-use all or portion of the work in different work but can not granting third-party requests for reprinting and republishing the work.
3. Authors are permitted and encouraged to post their work online (e.g., in institutional repositories or on their website) as it can lead to productive exchanges, as well as earlier and greater citation of published work.