Aplikasi Context Aware Digital Assistance Mode Silent Berbasis Mobile
Abstract
Smartphone merupakan alat komunikasi yang sangat mendukung segala aktifitas yang dilakukan oleh manusia. Smartphone memiliki fitur-fitur yang membantu pengguna dalam melakukan kegiatan, salah satunya yaitu mode silent. Fitur mode silent dilakukan ketika pengguna tidak ingin menerima dan diganggu oleh panggilan telepon. Misalnya ketika pengguna sedang melakukan meeting. Namun pengaturan silent mode ini masih dilakukan secara  manual sehingga terkadang pengguna lupa untuk mengaturnya. Ini sangat mengganggu berjalannya meeting jika ada panggilan telepon. Maka dibuat sebuah aplikasi yang dapat membantu pengguna dalam mengatur mode silent pada smartphone secara otomatis berdasarkan kondisi kegiatan yang dilakukan oleh pengguna. Kegiatan dimasukkan ke dalam Google Calendar lalu akan diproses oleh aplikasi. Aplikasi akan mengaktifkan mode silent jika pengguna sedang melakukan kegiatan penting sesuai dengan inputan yang ada di dalam Google Calendar.
References
Zaki. (2008). Smartphone.
Siska. (2014). Kriteria Meeting Yang Efektif. Retrieved February 18, 2015, from http://wikileaksbrasil.org/kriteria-meeting-yang-efektif/.
Fendy. (2014). PROPOSAL PROYEK AKHIR Implementasi Near Field Communication ( NFC ) pada Kegiatan Rutin Berbasis Android.
Schilit, & Theimer. (1994). Context Awareness. Retrieved February 15, 2015, from http://nicolasruslim.com/blog/context-awareness/apa-itu-context-awareness/.
Gonzales, Rafael C. (2009). Digital Image Processing. North America :Pearson Education
Garage, Willow. (t,t).OpenComputer Vision. Diambil pada tanggal 24 Desember 2014 dari http://opencv.willowgarage.com/wiki/
Apriadi,Andhika. (2013).Pembuatan Aplikasi Sistem Peringatan Untuk Ponsel Berbasis Android,Proyek akhir pada Universitas Gunadarma Depok, tidak dipublikasikan
Fatimah, W. N. (2011). Pengenalan Eclipse
Hermawan, A. (2002). Pemrograman Dengan Java. Retrieved May 05, 2015, from http://www.master.web.id/mwmag/issue/04/content/tutorial-java-1/tutorial-java-1.html
Assagaf, N. (2012). Mengatur Jadwal Dengan Google Calendar. Retrieved January 15, 2015, from http://www.cloudindonesia.or.id/mengatur-jadwal-dengan-google-calendar.html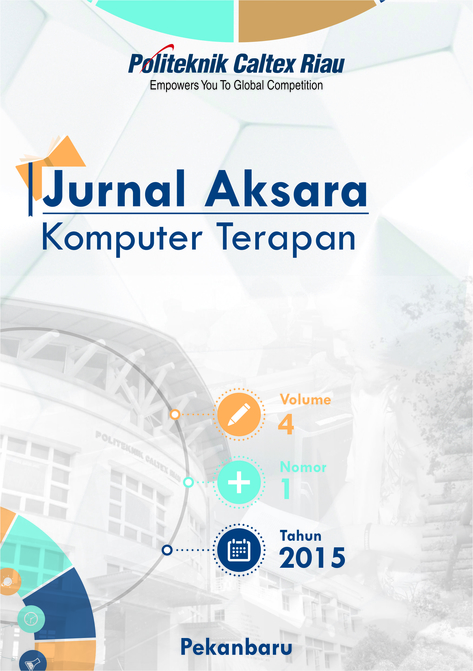 Downloads
License
Copyright info for authors
1. Authors hold the copyright in any process, procedure, or article described in the work and grant the journal right of first publication with the work simultaneously licensed under a Creative Commons Attribution License that allows others to share the work with an acknowledgement of the work's authorship and initial publication in this journal.
2. Authors retain publishing rights to re-use all or portion of the work in different work but can not granting third-party requests for reprinting and republishing the work.
3. Authors are permitted and encouraged to post their work online (e.g., in institutional repositories or on their website) as it can lead to productive exchanges, as well as earlier and greater citation of published work.