Analisa Performansi Virtualisasi Data Center Pada Cloud Computing
Abstract
Perkembangan teknologi yang semakin maju berpengaruh terhadap perkembangan data. Data-data tersebut bergerak terlalu cepat dan memiliki ukuran yang besar. Untuk mendapatkan nilai dari data tersebut, harus ada alternatif untuk mengelola data yaitu dengan menggunakan data center. Dalam membangun data center dibutuhkan infrastruktur tempat dan sumber daya yang memadai. Permasalahan akan muncul saat terjadi kerusakan pada data center, baik pada perangkat keras, perangkat lunak maupun jaringan. Untuk menghindari hal tersebut data center dapat di maintenance secara berkala namun dengan biaya yang tidak murah dan proses yang tidak mudah. Sehingga untuk mengatasinya, dapat dibangun data center secara virtual dengan teknologi cloud computing. Pada cloud computing, komputer fisik digantikan dengan virtual machine. Data center yang dibangun memiliki 3 virtual machine (node) pada keempat teknologi virtualisasi, yaitu Linux-Vserver, KVM, OpenVZ dan Xen. Pada setiap teknologi virtualisasi diuji performansi sumber daya seperti CPU, memori dan network. Pengujian dilakukan dengan 2 cara, yaitu menggunakan jaringan public dan jaringan private. Hasil uji dan analisa yaitu server KVM menjadi server tertinggi dalam penggunaan sumber daya CPU dan memori namun memiliki kinerja data center yang stabil; server OpenVz dan Linux-Vserver menggunakan sumber daya yg sedikit dan performa yang cukup baik; server Xen menggunakan sumber daya yang paling rendah namun dengan tingkat kegagalan yang tinggi saat proses transfer.
References
E. Dumbill, "What is big data?," 2012. [Online]. Available: http://radar.oreilly.com/2012/01/what-is-big-data.html. [Accessed: 09-Jul-2012].
Betti Alisjahbana, Tren Data Center dan Managed Services. 2014.
A. Uluwiyah, "Virtualisasi Data Center Sebagai Salah Satu Alternatif Solusi Pencapaian Target E-Government Yang Efisien dan Efektif (Study kasus : Badan Pusat Statistik (BPS))," 2012.
I. Sofana, Teori dan Praktik Cloud Computing (OpenNebula, VMware, dan Amazon AWS). Bandung: Informatika Bandung, 2012.
Linux-Vserver, "Linux-Vserver." [Online]. Available: http://linux-vserver.org. [Accessed: 01-Dec-2014].
K. Kolyshkin, OpenVZ User's Guide. 2005.
R. M. G. Shikha R. Thakur, Review on Xen Hypervisor, vol. 1, no. 5. 2014, pp. 54–59.
S. Lee, Introduction to KVM. 2011.
M. A. Rifqi, VMware vs Virtual Box. 2007, pp. 1–4.
Bochs, "Bochs." .
User-Mode Linux, "User-Mode Linux." .
I. P. A. E. Pratama, Smart City Beserta Cloud Computing dan Teknologi-Teknologi Pendukung Lainnya. Bandung: Informatika Bandung, 2014.
S. B. Srikanth Sundarrajan, Xen and Server Consolidation. 2006.
CentOS, "About CentOS." [Online]. Available: http://www.centos.org/. [Accessed: 03-Dec-2014].
B. Pawlowski, S. Shepler, C. Beame, B. Callaghan, M. Eisler, D. Noveck, D. Robinson, and R. Thurlow, "The NFS Version 4 Protocol," no. February, 2000.
D. Dewannanta, Perancangan Jaringan Komputer - Data Center. 2013, pp. 1–6.
Apache HTTP Sever Project, "Apache HTTP Server Project." [Online]. Available: http://httpd.apache.org/ABOUT_APACHE.html. [Accessed: 04-Feb-2015].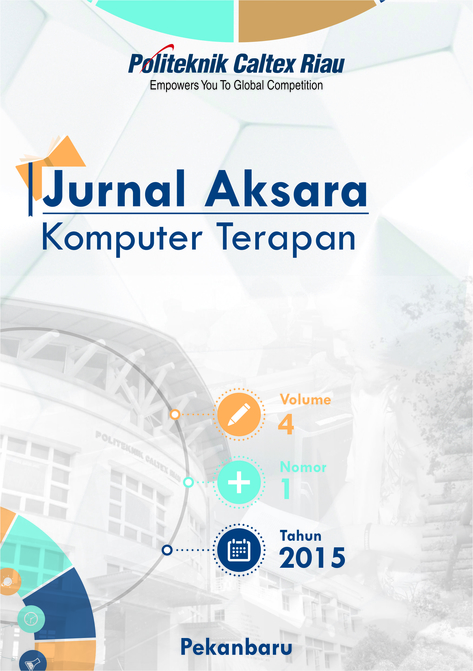 Downloads
License
Copyright info for authors
1. Authors hold the copyright in any process, procedure, or article described in the work and grant the journal right of first publication with the work simultaneously licensed under a Creative Commons Attribution License that allows others to share the work with an acknowledgement of the work's authorship and initial publication in this journal.
2. Authors retain publishing rights to re-use all or portion of the work in different work but can not granting third-party requests for reprinting and republishing the work.
3. Authors are permitted and encouraged to post their work online (e.g., in institutional repositories or on their website) as it can lead to productive exchanges, as well as earlier and greater citation of published work.