Implementasi dan Analisis Cloud Computing Infrastructure as a Service menggunakan OpenStack
Abstract
Kualitas komputer dituntut terus berkembang dan semakin canggih agar dapat menyesuaikan kebutuhan manusia yang juga semakin banyak. Hal ini berdampak kepada perubahan infrastruktur teknologi informasi yang harus mengikuti perkembangan. Misalnya, infrastruktur sumber daya komputer pada suatu organisasi atau institusi seharusnya dirancang agar scalable yaitu mampu mempertahankan kualitas kinerja walau terdapat penambahan jumlah data dan kebutuhan pengguna. Dampak ketika infrastruktur tidak scalable yaitu penurunan kinerja akibat ketidaksesuaian antara kekuatan dan penggunaan sumber daya. Cloud computing IAAS dapat menjadi solusi dari masalah tersebut, yaitu dengan menggunakan OpenStack. Pengujian dan analisis kinerja OpenStack dilakukan pada CPU, storage, dan network berdasarkan metrik scalability yaitu overhead, linearity, dan performance isolation. Hasilnya adalah kinerja CPU sangat baik berdasarkan overhead 0,0021s, degradasi 3,03%, linearity 0,149s, dan adanya performance isolation CPU antara VM1 dan VM2. Kinerja storage cukup baik dengan overhead 2,3847s, degradasi 42,28%, dan adanya performance isolation storage antara VM1 dan VM2. Namun linearity storage kurang baik dengan hasil 2.429,055s. Network memiliki kinerja yang baik dengan overhead -111,25 kB/s, degradasi 1,896%, dan linearity dengan penurunan troughput yang teratur. Namun network tidak memiliki performance isolation antara VM1 dan VM2. Dari hasil uji dan analisis tersebut, OpenStack dapat menjadi solusi layanan infrastruktur yang scalable dan mampu mempertahankan kualitas kinerja.
References
Jha, A., Murari, K., Raju, M., Cherian, V., & Girikumar, Y. (2012). OpenStack Beginner's Guide (p. 76). CSS Corp. Retrieved from http://arccn.ru/knowledge-base?pdf=50f6707855f16.pdf
Sulistyowati, L., Sulistyo, W., & Bayu, T. I. (2012). Implementasi Cloud Computing sebagai Infrastructure as a Service untuk Penyediaan Web Server (pp. 185–201). Retrieved from http://repository.uksw.edu/jspui/bitstream/123456789/2394/1/T1_672007143_Abstract.pdf
Santi, D., Rumani, R. M., & Purwanto, Y. (2013). Implementasi Dan Analisis Performansi RAID Pada Data Storage Infrastructure As A Service Cloud Computing (Vol. 14). Retrieved from http://library.gunadarma.ac.id/journal/view/10403/
Zakky, D., Brotoharsono, T., & Darwiyanto, E. (2013). Cloud Manager Menggunakan OpenStack API. Retrieved from http://repository.telkomuniversity.ac.id/catalogue/karyailmiahdetail/8872
Rahma, N. F. P., Rochim, A. F., & Widianto, E. D. (2014). Analisis Implementasi Infrastructure As A Service Menggunakan Ubuntu Cloud Infrastructure. Retrieved from http://eprints.undip.ac.id/42295/
Mell, P., & Grance, T. (2011). The NIST Definition of Cloud Computing Recommendations of the National Institute of Standards and Technology (p. 7). Retrieved from http://csrc.nist.gov/publications/nistpubs/800-145/SP800-145.pdf
Sofana, I. (2012). Cloud Computing Teori dan Praktik (OpenNebula, VMware, dan Amazon AWS). Bandung: Informatika.
Pepple, K. (2011). Deploying OpenStack (p. 86). O'Reilly. Retrieved from http://it-ebooks.info/book/563/
Quetier, B., Neri, V., & Capello, F. (2007). Scalability Comparison of Four Host Virtualization Tools. Journal of Grid Computing, 5(1), 83–98. Retrieved from http://link.springer.com/article/10.1007/s10723-006-9052-6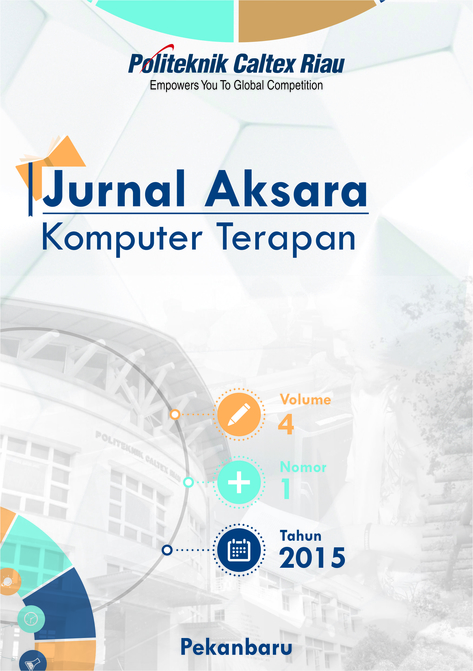 Downloads
License
Copyright info for authors
1. Authors hold the copyright in any process, procedure, or article described in the work and grant the journal right of first publication with the work simultaneously licensed under a Creative Commons Attribution License that allows others to share the work with an acknowledgement of the work's authorship and initial publication in this journal.
2. Authors retain publishing rights to re-use all or portion of the work in different work but can not granting third-party requests for reprinting and republishing the work.
3. Authors are permitted and encouraged to post their work online (e.g., in institutional repositories or on their website) as it can lead to productive exchanges, as well as earlier and greater citation of published work.