Aplikasi Pelatihan Scaffolding Berbasis Android Augmented Reality
Abstract
Augmented Reality adalah sebuah teknologi yang menggabungkan benda virtual komputer dengan benda nyata yang menghasilkan suara atau grafis ke dalam dunia nyata. Augmented Reality berkembang sangat pesat sehingga memungkinkan pengembangan teknologi ini dibidang konstruksi khususnya scaffolding. Scaffolding dibuat untuk memudahkan dan mengamankan pekerjaan di ketinggian. Scaffolder membutuhkan visualisasi 3D agar dapat memahami betul proses pemasangan, pembongkaran scaffolding serta penghitungan material scaffolding. Untuk itu, dibangunlah sebuah aplikasi pelatihan scaffolding menggunakan teknologi Augmented Reality yang dapat digunakan kapanpun oleh pekerja melalui smartphone yang menggunakan OS Android. Aplikasi ini bekerja dengan menyediakan marker sebagai alat peraga yang diidentifikasi menggunakan kamera untuk memunculkan objek 3D pada smartphone Android. Hasil proyek akhir ini berupa aplikasi mobile pemodelan scaffolding yang dijalankan pada smartphone Android. Aplikasi ini berjalan lancar dan stabil dengan menggunakan smartphone Android yang memiliki processor dual core serta memiliki fasilitas optical zoom pada kameranya untuk menghasilkan jarak ideal pendeteksian marker yang lebih luas. Pengujian menunjukkan bahwa scaffolder, supervisor scaffolding dan inspector konstruksi lebih mudah memahami proses pemasangan dan pembongkaran scaffolding, pengawasan dan inspeksi scaffolding sesuai dengan bidang pekerjaan masing-masing.
References
Azuma, Ronald T. 1997. A Survey of Augmented Reality, Hughes Research Laboratories, Malibu. Diambil 18 November 2011 dari:http://www.cs.unc.edu/~azuma/ARpresence.pdf
Chevron. 2006. Scaffolding Training. Indonesia: Author.
Chevron. 2011. IBU FSWP Guidebook. Indonesia: Author.
Disnakertrans RI. 2005. Himpunan Peraturan Perundangan Keselamatan dan Kesehatan Kerja. Jakarta, Indonesia.
Eastman Impex. (2000). Scaffolding Formwork Shoring. Diambil 15 November 2011 dari: http://www.scaffoldingeastman.com/downloads/scaffolding.pdf
Henrysson, Anders & Ollila, Mark.(t.t). Augmented Reality on Smartphones. Norrkӧping Visualization and Interaction Studio, Linkӧping University, Swedia. Diambil 28 November 2011 dari: http://nzdis.otago.ac.nz/projects/projects/berlin/repository/revisions/38/entry/trunk/Master's%20Docs/Papers/Augmented%20Reality%20on%20Smartphones.pdf
Milgram, Paul & Kishino, Fumio. 1994. A Taxonomy of Mixed Reality Visual Displays, University of Toronto. Diambil 15 November 2011 dari: http://web.cs.wpi.edu/~gogo/hive/papers/Milgram_IEICE_1994.pdf
Safaat, Nazrudin. 2011. Pemrograman Aplikasi Mobile Smartphone dan Tablet PC Berbasis Android. Bandung: Informatika.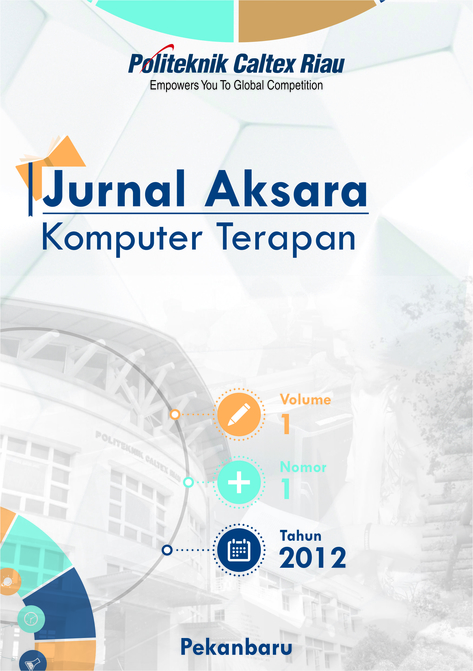 Downloads
License
Copyright info for authors
1. Authors hold the copyright in any process, procedure, or article described in the work and grant the journal right of first publication with the work simultaneously licensed under a Creative Commons Attribution License that allows others to share the work with an acknowledgement of the work's authorship and initial publication in this journal.
2. Authors retain publishing rights to re-use all or portion of the work in different work but can not granting third-party requests for reprinting and republishing the work.
3. Authors are permitted and encouraged to post their work online (e.g., in institutional repositories or on their website) as it can lead to productive exchanges, as well as earlier and greater citation of published work.