Rancang Bangun Aplikasi Pembelajaran Autisme Menggunakan Intel RealSense dan Visualisasi Animasi 3D
Abstract
Autisme adalah adanya ketidaknormalan perkembangan anak dengan karakteristik tidak normal pada interaksi sosial, komunikasi, dan perilaku yang kerap diulang. Karena adanya ketidaknormalan tersebut, maka dibutuhkan proses belajar khusus bagi anak autis yang visual learner. Umumnya proses pembelajaran anak autis masih menggunakan media belajar berupa alat peraga visual yang dicetak pada kertas. Sehingga untuk bagian desain, pengembangan, dan pengelolaan dari alat peraga sering tidak dihiraukan. Untuk mengatasi kekurangan tersebut, maka alternatif lain yang dapat digunakan adalah aplikasi pembelajaran. Oleh karena itu dibangunlah aplikasi pembelajaran autisme menggunakan kamera pendeteksi gerak, Intel RealSense, dan visualisasi animasi 3D. Anak autis dapat belajar mengenal benda, bidang, warna, angka, dan huruf pada aplikasi ini. Materi yang disajikan sesuai dengan kurikulum Cathrine Maurice tahap awal bagian pre-akademik. Setiap menu belajar terdapat latihan. Pada latihan, anak autis diminta untuk melakukan pencocokan objek dengan cara drag dan drop. Kamera Intel RealSense pada aplikasi ini berfungsi sebagai controller. Hasil analisa kuesioner yang telah dijawab oleh terapis menunjukkan 89% aplikasi ini sangat baik sebagai media pembelajaran alternatif untuk anak autis. Dari aspek interaktif, menujukkan hasil 81% aplikasi baik untuk menjadi solusi pembelajaran interaktif. Penilaian aspek interaktif ini berdasarkan analisa kuesioner yang ditujukan kepada anak autis.
References
American Psychiatric Association. (1994). Diagnostic and Statistical Manual of Mental Disorder (DSM-IV) (4thed). Washington D.C.: Author.
The National Autistic Society. (2013). Visual Support. Diambil 3 Mei 2015 dari http://www.autism.org.uk/visualsupports.
Mayer, R.E. (1999). Multimedia Aids to Problem-Solving Transfer. International Journal of Education Research.
Ceruzzi, Paul E. (2000). A History of Modern Computing. Salisbury, UK: Techset Composition Ltd.
Undang-Undang No. 20 (2003): Sistem Pendidikan Nasional
Intel Corporation. (2014). Intel RealSense SDK for Windows: Version 2014 (Gold). Diambil 2 April 2015 dari https://software.intel.com/sites/default/files/managed/02/91/intel-realsense-facial-analysis-tutorial.pdf.
Vaughan, Tay. (2006). Multimedia: Making It Work (6thed). (T. A. Prabawati & A. H. Yuliana, Trans.). Yogyakarta: Andi. (Original work published 2004).
Menache, Alberto. (2000). Understanding Motion Capture for Computer Animation and Video Games. San Fransisco, USA: Morgan Kaufmann Publishers.s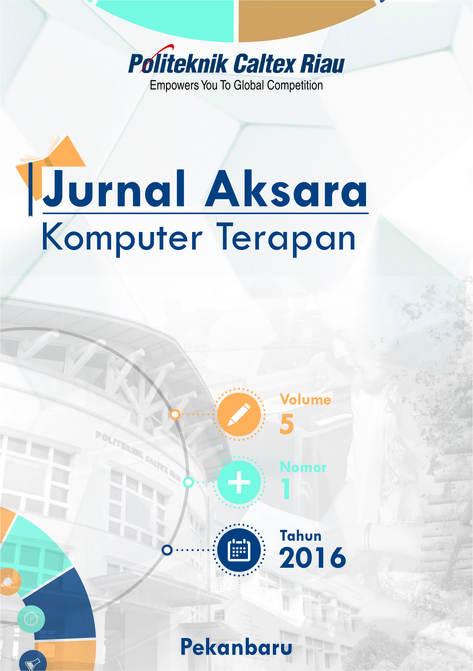 Downloads
License
Copyright info for authors
1. Authors hold the copyright in any process, procedure, or article described in the work and grant the journal right of first publication with the work simultaneously licensed under a Creative Commons Attribution License that allows others to share the work with an acknowledgement of the work's authorship and initial publication in this journal.
2. Authors retain publishing rights to re-use all or portion of the work in different work but can not granting third-party requests for reprinting and republishing the work.
3. Authors are permitted and encouraged to post their work online (e.g., in institutional repositories or on their website) as it can lead to productive exchanges, as well as earlier and greater citation of published work.