Perancangan Sistem Penentuan Posisi Pemain Sepakbola Menggunakan Algoritma K-NN
Abstract
Sepak bola adalah cabang olahraga yang beranggotakan 11 (sebelas) orang pemain inti dan sebagian pemain cadangan. Pelatih biasanya menggunakan data dari hasil-hasil training yang dijalani oleh seorang pemain sebelum pertandingan. Pemilihan yang masih bersifat subjektif ini menimbulkan ketidakpuasan dari pemain yang tidak terpilih. Untuk itu dibangunlah sebuah sistem yang digunakan untuk menentukan posisi pemain bagi pelatih menggunakan algoritma k-NN. Sistem ini dapat memberikan prediksi rekomendasi posisi yang cocok sesuai dengan kemampuan pemain. Pemilihan output sebelas pemain terbaik akan ditampilkan dengan membandingkan rating setiap pemain pada setiap posisi. Output sebelas pemain terbaik yang akan menjadi starting line-up dalam formasi yang ditentukan oleh sistem.
References
Dunmore, Thomas., Murray, Scott. (t.t.). Position on a Soccer Team. Diakses tanggal 16 November 2015 dari http://www.dummies.com/how-to/content/positions-on-a-soccer-team0.html.
Artha, Komank. (2011). Data Mining Metode Classification K-Nearest Neighbor.
Febrianto, Ian. (2010). Sistem Pendukung Keputusan Penempatan Posisi Ideal Pemain Dalam Strategi Formasi Sepak Bola. Bandung.
Putra, Dimas P, Zainal Abidin & M. Ainul Yaqin. (2012). Sistem Pendukung Keputusan Penentuan Starting Line Up pada Pertandingan Sepak Bola Menggunakan Metode Analytic Network Process. Malang.
Ledyana. (2013). Penerapan algortima k-nn untuk penentuan resiko kredit kepemilikan kendaraan bermotor. Jakarata.
Rumpf. (t.t.). Footballscience :Position on Football. Germany.
Larose, D.T. (2006). Data Mining Methods and Models. Mahwah, NJ: Wiley and Sons.
Fatmasari, April. (27 April 2012). Machine Learning. Diakses tanggal 16 November 2015 dari https://www.scribd.com/doc/91533455/Machine-Learning.
Han, Jiawei., Kamber, Micheline. (2006). Data Mining: Concepts and Techniques Second Edition. San Fransisco. Morgan Kauffman Publisher.
Rokarch, Lior., Maimon, Oded. (2008). Data Mining with Decision Trees Theory and Applications. USA
Schneider, Jeff. (1997). Cross Validation.
Arief, Rudianto M. (2011). Pemrograman Web Dinamis Menggunakan Php dan Mysql. Yogyakarta: ANDI.
Tahaghogi, Seyed., Williams, Hugh E. (2007). Learning MySQL. USA.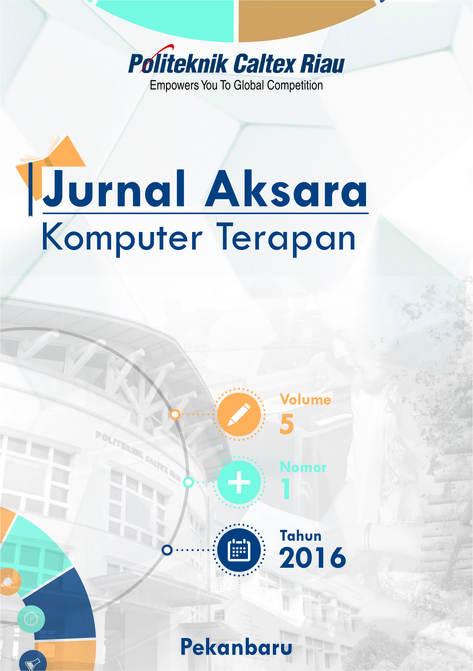 Downloads
License
Copyright info for authors
1. Authors hold the copyright in any process, procedure, or article described in the work and grant the journal right of first publication with the work simultaneously licensed under a Creative Commons Attribution License that allows others to share the work with an acknowledgement of the work's authorship and initial publication in this journal.
2. Authors retain publishing rights to re-use all or portion of the work in different work but can not granting third-party requests for reprinting and republishing the work.
3. Authors are permitted and encouraged to post their work online (e.g., in institutional repositories or on their website) as it can lead to productive exchanges, as well as earlier and greater citation of published work.