High Availability Datacenter pada Cloud Computing Menggunakan Heartbeat
Abstract
Data merupakan kumpulan fakta penting yang harus disimpan dan dijaga agar dapat digunakan untuk keperluan di masa sekarang maupun di masa yang akan datang. Data dapat disimpan dalam bentuk file digital yang kemudian ditempatkan pada sistem penyimpanan komputer. Semakin pertambahan jumlah data menjadikan pengelolaan data tidak lagi dapat dianggap mudah, oleh karena itu perlu dukungan teknologi berupa penyimpanan data terpusat (datacenter). Datacenter dapat dibangun menggunakan cloud computing dengan metode virtualisasi akan tetapi metode tersebut tidak dapat menjamin availabilitas datacenter. Availabilitas datacenter diperlukan agar informasi tetap terjaga secara terus-menerus sehingga client dapat terhubung dan melakukan aktifitas ke datacenter. Untuk mewujudkan availabilitas tinggi perlu ditambahkan Heartbeat sebagai tool untuk high availability dan Rsync sebagai tool untuk sinkronisasi data. Pemanfaatan teknologi cloud yang dikombinasikan dengan Heartbeat dan Rsync dapat menjamin sistem hingga 99.5% dan sinkronisasi informasi pada datacenter yang ada.Kata Kunci : Datacenter, Cloud Computing, Heartbeat, Rsync
References
Pribadi, P. T, "Implementasi High-Availability VPN Client Pada Jaringan Komputer Fakultas Hukum Universitas Udayanaâ€, Jurnal Ilmu Komputer, 1-8, 2013.
Saenal, M. T., Solikin, & Ismail, S. J, "Membangun High Availability Cluster pada Web Server Dengan Sistem Operasi Linux Ubuntu Server Menggunakan Heartbeatâ€, 1-10, 2012.
Mell, P., & Grance, T, The NIST Definition Of Cloud Computing, 1-7, 2011.
Bookman, C, "Linux clustering: Building and Maintaining Linux Clusterâ€, United States of America: New Riders publishing, Edisi I, 2003.
Hwang, K., & Xu, Z, "Scallable Parallel Computing: Technology, Architecture, Programmingâ€, Singapore: McGraw-Hill, 2000.
Reichle and D.-M. AG, "R&M Data Center Handbookâ€, Reichle & De-Massari AG, Edisi II, 2011.
Linux-HA, Linux HA Org, http://linux-ha.org/wiki/Heartbeat, (20 April 2015)
Tridgell, A., & Mackerras, P, "The rsync algorithmâ€, 4, 1996.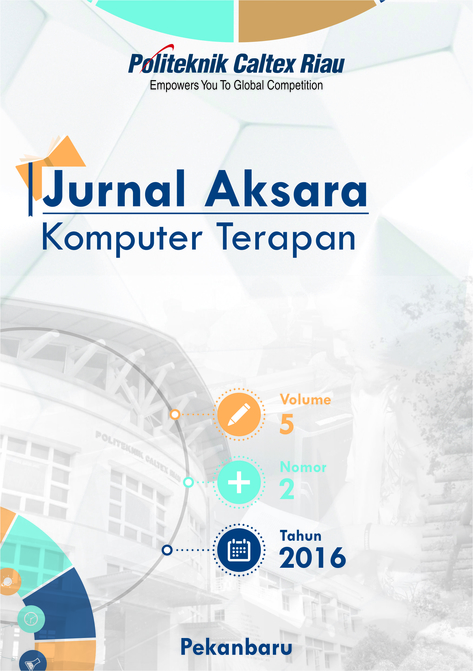 Downloads
License
Copyright info for authors
1. Authors hold the copyright in any process, procedure, or article described in the work and grant the journal right of first publication with the work simultaneously licensed under a Creative Commons Attribution License that allows others to share the work with an acknowledgement of the work's authorship and initial publication in this journal.
2. Authors retain publishing rights to re-use all or portion of the work in different work but can not granting third-party requests for reprinting and republishing the work.
3. Authors are permitted and encouraged to post their work online (e.g., in institutional repositories or on their website) as it can lead to productive exchanges, as well as earlier and greater citation of published work.