Deteksi Salient Area Pada Head-And-Shoulder Video Menggunakan Metode Segmentasi Warna Kulit
Abstract
Video merupakan salah satu konten multimedia yang sering digunakan untuk menyajikan maupun memperoleh informasi. Dalam sebuah video terdapat daerah-daerah tertentu yang menarik perhatian penonton yang disebut salient area. Terdapat empat objek yang digunakan untuk menentukan salient area, salah satunya adalah wajah. Wajah digunakan sebagai objek yang dapat menarik perhatian penonton khususnya pada video dengan tipe head-and-shoulder. Daerah wajah pada video head-and-shoulder dideteksi menggunakan metode segmentasi warna kulit yang memisahkan antara area warna kulit dan area yang bukan warna kulit. Metode segmentasi warna kulit ini merupakan metode yang dapat mendeteksi area wajah dalam waktu yang relatif singkat. Resolusi dari sebuah video juga dapat mempengaruhi kecepatan dari pendeteksian salient area. Pada resolusi 540p peningkatan kecepatan dalam mendeteksi salient area adalah 22,99%. Pada resolusi 480p peningkatan kecepatan mencapai 45,1% dan pada ukuran 360p peningkatan kecepatan mencapai 71,86%.
References
Kalaivani., Chezhian, Manicha. (2013), "Model-Based Segmentationand Tackingof Head-And-Shoulder Video Objects for Real Time Multimedia Services," 2003.
Luo, S., Liu, Z., Li, L., Zou, X., & Meur, O. Le,. "Efficient Saliency Detection Using Regional Color and Spatialâ€, 3–8.2011.
J. Kucerova, " Saliency map augmentation with facial detectionâ€.Proceedings of CESCG 2011: The 15th Central European Seminar on Computer Graphics (non-Peer-Reviewed), 1–6, 2011.
J. Feng, Y.Wei,Tao and Zhang, "Salient Object Detection by Composition,", p. 6, 2013.
T. Liu, Z. Yuan, J. Sun, J. Wang, N. Zheng, X. Tang and H.-Y. Shum, "Learning to Detect a Salient Object," IEEE Transactions On Pattern Analysis And Machine Intelligence, p. 15, 2011.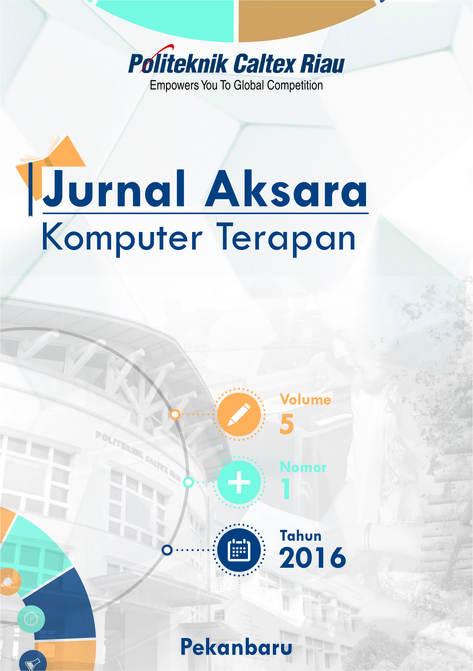 Downloads
License
Copyright info for authors
1. Authors hold the copyright in any process, procedure, or article described in the work and grant the journal right of first publication with the work simultaneously licensed under a Creative Commons Attribution License that allows others to share the work with an acknowledgement of the work's authorship and initial publication in this journal.
2. Authors retain publishing rights to re-use all or portion of the work in different work but can not granting third-party requests for reprinting and republishing the work.
3. Authors are permitted and encouraged to post their work online (e.g., in institutional repositories or on their website) as it can lead to productive exchanges, as well as earlier and greater citation of published work.