New Employee and New Leader Training Scheduling & Reporting Information System Using Graph Coloring Method (Case Study: PT. Chevron Pacific Indonesia)
Abstract
Baru karyawan dan pemimpin pelatihan adalah program pengembangan wajib di PT. CPI. Ada kendala yang diperlukan untuk membuat jadwal. Kendala yang sulit adalah bahwa target harus menerima jadwal sebelum tenggat waktu. Kendala lunak: pelatihan diadakan di lokasi dengan peserta terbanyak (1), peserta mendapatkan minimal 2 jadwal (2), peserta minimum untuk masing-masing kelas adalah 12 (3), maksimum 30 (4). Dalam prakteknya saat ini, target menerima 1 jadwal dan terkadang melewati batas waktu mereka. Masalah lainnya adalah manajemen data. Data dikelola dalam spreadsheet terpisah. Ada kemungkinan kesalahan manusia, dan dibutuhkan waktu untuk menghasilkan laporan (1-2 hari). pewarnaan graf menggunakan algoritma Welsh-Powell mampu memenuhi kendala keras. Tapi jadwal yang disediakan oleh sistem tidak fleksibel. Beberapa target mendapatkan jadwal terlalu dini dan beberapa target mendapatkan jadwal yang terlalu dekat dengan tenggat waktu. jadwal pelatihan direkomendasikan terjadi pada bulan yang sama setiap tahun. Berdasarkan hasil pengujian, tidak ada pelanggaran kendala keras, lembut kendala 1, lembut kendala 2 dan kendala lembut 4. Ada pelanggaran untuk kendala yang lembut 3. algoritma Welsh-Powell tidak mampu memberikan sebuah kelompok yang tepat untuk menghasilkan jadwal. Manusia mengganggu diperlukan untuk membuat jadwal yang tepat.
References
Astuti, Setia. (2011). Penyusunan Jadwal Ujian Mata Kuliah dengan Algoritma Pewarnaan Graf Welch Powell. Taken on February 22, 2016 from http://publikasi.dinus.ac.id/index.php/dian/article/view/23/10.
BL. (2016). New Employee Briefing (Mandatory). Taken on March 7, 2016 from http://www2.lbl.gov/BLI/netraining.html.
Chartrand, Gary. (2012). Introductory Graph Theory. Taken on January 28, 2016 from https://books.google.co.id/,
Desikan, Srinivasan. (2006). Software Testing: Principles and Practice. Taken on February 29, 2016 from https://books.google.co.id/.
Gupta, Hitesh. (2011). Management Information System. Taken on March 1, 2016 from https://books.google.co.id/.
Hiryanto, Lely & ThioThio, JacklinSinthia. (2011). Pengembangan Metode Graph Coloring untuk university Course Timetabling Problem pada Fakultas Teknologi Informasi Universitas Tarumanagara. Taken on 27 January 2016 from http://jiki.cs.ui.ac.id.
Jogiyanto (2005). Analisis&Desain Sistem Informasi Pendekatan TerstrukturTeoridanPraktik Aplikasi Bisnis. Yogyakarta: Andi.
Lewis, William.(2009). PDCA/Test. Taken on January 22, 2016 from https://books.google.co.id/
Liyandari. (2014). Aplikasi Penjadwalan Perawat dengan Metode Pewarnaan Graph (Study Kasus: RSUD Arifin Achmad pekanbaru). Politeknik Caltex Riau.
Morton, Thomas, and Pentico, David W. (1993). Heuristics Scheduling Systems. Taken on March 6, 2016 from https://books.google.co.id/
NT. (2014). Government of the Northwest Territories Leadership Development Program Program Guidelines. Taken on March 7, 2016 from http://www.hr.gov.nt.ca/sites/default/files/ldp_program_guidelines.pdf
Sendra, Leo, Santosa, R. Gunawan & Restyandito. (2009). Penjadwalan Mata Kuliah dengan Pendekatan Pewarnaan Graf di UKDW Yogyakarta. Taken on February 22, 2016 from https://www.academia.edu/2640858/Penjadwalan_Mata_Kuliah_dengan_Pendekatan_Pewarnaan_Graf_di_UKDW_Yogyakarta.
Susiloputro, Agus, Rochmad & Alamsyah. (2012). Penerapan Pewarnaan Graf pada Penjadwalan Ujian dengan menggunakan Algoritma Welsh Powell. Taken on March 7, 2016 from http://journal.unnes.ac.id/sju/index.php/ujm/article/view/610/899.
Witarto. (2004). Memahami Sistem Informasi Pendekatan Praktis Rekayasa Sistem Informasi Melalui Kasus-kasus Sistem Informasi di Sekitar Kita. Bandung : Informatika.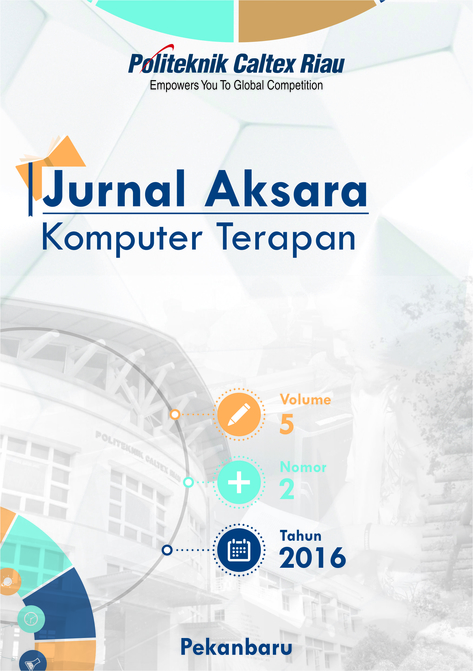 Downloads
License
Copyright info for authors
1. Authors hold the copyright in any process, procedure, or article described in the work and grant the journal right of first publication with the work simultaneously licensed under a Creative Commons Attribution License that allows others to share the work with an acknowledgement of the work's authorship and initial publication in this journal.
2. Authors retain publishing rights to re-use all or portion of the work in different work but can not granting third-party requests for reprinting and republishing the work.
3. Authors are permitted and encouraged to post their work online (e.g., in institutional repositories or on their website) as it can lead to productive exchanges, as well as earlier and greater citation of published work.