Implementasi Cloud Computing Datacenter dengan Metode Failover
Abstract
Perkembangan teknologi sekarang ini diikuti dengan semakin meningkatnya jumlah informasi atau data yang tersedia sehingga diperlukan sebuah teknologi berupa penyimpanan data (datacenter). Datacenter tersebut dapat dibangun dengan menggunakan teknologi cloud computing. Layanan yang diberikan penyedia jasa cloud computing memberikan banyak keuntungan yang mengakibatkan peminat layanan ini terus bertambah terutama di bagian datacenter. Pengguna menginginkan layanan yang tingkat ketersediaannya tinggi sehingga dapat digunakan terus menerus tanpa merasakan down apabila terjadi kegagalan pada server. Maka itu dibangunlah sebuah datacenter berbasis cloud computing dengan metode failover. Dari hasil pengujian terhadap datacenter didapatkan bahwa data berhasil diunggah dan diunduh kembali dari sistem. Hasil pengujian performansi sistem menunjukkan bahwa delay layanan dikategorikan dalam "Sangat Bagus†dan throughput dikategorikan dalam "Sedangâ€. Dengan adanya metode failover didapatkan hasil bahwa availability layanan mencapai angka 100% meskipun salah satu server mengalami kegagalan.
References
Adrianus, F. (2013). Shared Storage untuk Implementasi Clustering Server Menggunakan Network Block Device pada Ubuntu Server. Pekanbaru : Politeknik Caltex Riau.Basuki, A. P. (2010). Membangun Web Berbasis PHP dengan Framework CodeIgniter. Yogyakarta: Lokomedia.
Afif, M.F., Suryono, T. (2013). Implementasi Disaster Recovery Plan dengan Sistem Fail Over Menggunakan DRBD dan Heartbeat pada Data Center FKIP UNS. Surakarta : UNS.Gary B, S., Thomas J, C., & Misty E, V. (2007). Discovering Computers : Fundamentals, 3th ed. (Terjemahan). Jakarta: Salemba Infotek.
Annisa, N., Mulyana, A., Wibowo, T.A. (2012). Analisis dan Implementasi Media Penyimpanan di Jaringan Internet ITTELKOM Menggunakan Network Attached Storage (NAS). Bandung : Universitas Telkom.Jogiyanto, HM., (1999). Analisis dan Disain Informasi: Pendekatan Terstruktur Teori dan Praktek Aplikasi Bisnis, Andi Offset, Yogyakarta
Bahtiar, A. (2010). Monitoring Jaringan dengan PRTG Traffic Grapher di PT. PLN (Persero) Distribusi Jateng dan DIY. Semarang : Universitas Dipenogoro.
Bookman, C. (2003). Linux clustering: Building and Maintaining Linux Cluster. United States of America: New Riders publishing.
Mell, P., Grance, T. (2011). The NIST Defenition of Cloud Computing. National Institute of Standards and Technology, Information Technology Laboratory.
Pakpahan, S. (2012). Apa itu Hyper-V? Diambil tanggal 30 Juni 2015 dari http://www.cloudindonesia.or.id/apa-itu-hyper-v.html.
Prabowo, B. (2010). Membangun Automatic Storage Clustering Berbasis MooseFS. Bandung : Universitas Pendidikan Indonesia.
Remzi. H & Andrea. C. (2014). Redundant Arrays of Inexpensive Disks (RAIDs). Operating System : Three Easy Pieces, 38, 4-15.
Sulistyanto, I.H. (2015). Implementasi High Availability Server dengan Teknik Failover Virtual Computer Cluster. Surakarta : Universitas Muhammadiyah Surakarta.
Technet Microsoft. (2009). What's New in Failover Cluster in Windows Server 2008. Diambil tanggal 01 Juli 2015 dari https://technet.microsoft.com/en-us/library/cc770625(v=ws.10).aspx.
Universitas Brawijaya. (t.t). Microsoft Windows Server. Diambil tanggal 01 Juli 2015 dari http://bits.ub.ac.id/dreamspark/microsoft-windows-server/.
Yulianti, D.E., Nanda, H.B. (2008). Best Practice Perancangan Fasilitas Data Center.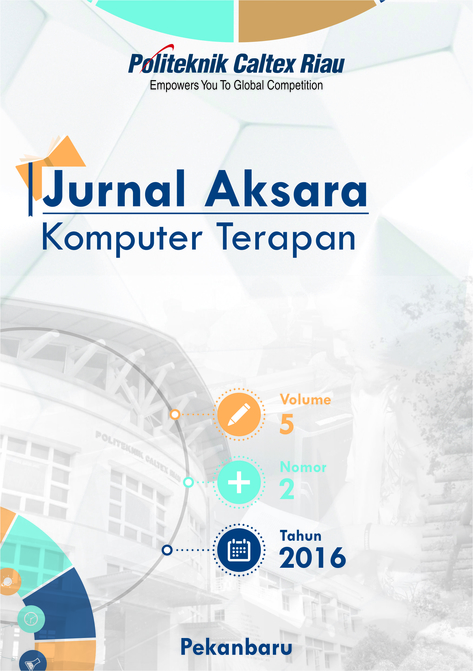 Downloads
License
Copyright info for authors
1. Authors hold the copyright in any process, procedure, or article described in the work and grant the journal right of first publication with the work simultaneously licensed under a Creative Commons Attribution License that allows others to share the work with an acknowledgement of the work's authorship and initial publication in this journal.
2. Authors retain publishing rights to re-use all or portion of the work in different work but can not granting third-party requests for reprinting and republishing the work.
3. Authors are permitted and encouraged to post their work online (e.g., in institutional repositories or on their website) as it can lead to productive exchanges, as well as earlier and greater citation of published work.