Aplikasi Permainan Alat Musik Angklung Menggunakan Intel RealSense
Abstract
Angklung adalah alat musik tradisional yang berasal dari Jawa Barat. Alat musik ini terbuat dari bambu. Sedangkan masyarakat saat ini sudah dilengahkan oleh teknologi-teknologi yang canggih seperti memainkan alat musik melalui gadget android dan lainnya. Kebanyakan waktu mereka dihabiskan dengan perangkat-perangkat berteknologi canggih baik untuk belajar, hiburan, bersosial, dan lain sebagainya. Teknologi sendiri diciptakan bertujuan untuk mempermudah urusan manusia. Teknologi juga dapat membantu manusia untuk melestarikan budaya. Termasuk dalam bidang musik. Dengan memanfaatkan telkonogi yang ada, dibangun sebuah aplikasi 3 dimensi yang dapat membantu masyarakat dalam mempelajari atau memainkan angklung. Diharapkan aplikasi ini mampu melestarikan kebudayaan tradisional khususnya pada alat musik angklung.
References
Azhari & Andarin, 2013-1-00695-IF Bab2001.doc, 2011. http://library.binus.ac.id/eColls/eThesisdoc/Bab2DOC/2013-1-00695-IF%20Bab2001.doc
Blain, J.M., An introduction to Blender 3D a book for beginners, Europe, Blender Foundation
Darwin, Marshall Hari Dwi Admojo dkk, Perancangan Aplikasi Game Angklung Bergenre Musik Dengan Controller Android, Binus Univercity, http://thesis.binus.ac.id/Doc/Lain-lain/2013-1-00695-IF%20WorkingPaper001.pdf
Intel RealSense, http://www.intel.co.id/content/www/id/id/architecture-and-technology/realsense-overview.html
Mahmud, Dede, Sejarah Angklung dan Jenis Kesenian Angklung, 2015, http://www.tradisikita.my.id/2015/04/sejarah-angklung-dan-jenis-angklung.html
Purba, Joe, Pengertian Dasar dan Simbol Flowchart, http://www.academia.edu/6912277/PENGERTIAN_DASAR_DAN_SIMBOL_FLOWCHART
Sugiono, Likert Scales, http://poincare.matf.bg.ac.rs/~kristina/topic-dane-likert.pdf
Taslim Ahmad, BlackBox, http://www.academia.edu/5574402/Blackbox
T.T, â€Black Boxâ€, 2003. (http://digilib.unila.ac.id/886/9/BAB%20II.pdf)
Unity, Unity, https://unity3d.com/unity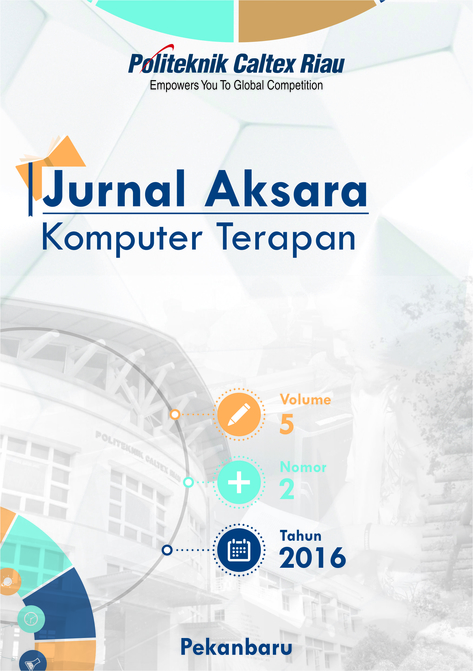 Downloads
License
Copyright info for authors
1. Authors hold the copyright in any process, procedure, or article described in the work and grant the journal right of first publication with the work simultaneously licensed under a Creative Commons Attribution License that allows others to share the work with an acknowledgement of the work's authorship and initial publication in this journal.
2. Authors retain publishing rights to re-use all or portion of the work in different work but can not granting third-party requests for reprinting and republishing the work.
3. Authors are permitted and encouraged to post their work online (e.g., in institutional repositories or on their website) as it can lead to productive exchanges, as well as earlier and greater citation of published work.