Rancang Bangun Tactical Dashboard Sumur Minyak PT. Chevron Pacific Indonesia Area Minas untuk Proses Workover Berbasis Web
Abstract
PT. Chevron Pacific Indonesia (CPI)Â  adalah perusahaan yang bergerak di bidang minyak dan gas yang berada di Riau. Salah satu lapangan yang dikelola oleh PT. CPI adalah lapangan minyak Minas. Lapangan minyak Minas merupakan lapangan minyak yang terbesar yang di miliki oleh PT. CPIÂ  dan merupakan lapangan terbesar di Asia Tenggara. Berdasarkan hasil survey yang dilakukan, pimpinan PT. CPI Area Minas sulit untuk mendapatkan informasi data produksi sumur minyak yang sesuai dengan keinginan management. Salah satu keinginan management pada data produksi sumur minyak adalah mengetahui data perbulan, pertahun, dan volume water injection. Permasalahan yang ada pada data produksi sumur minyak di PT. CPI Area Minas yaitu bagaimana mengetahui sumur mana yang harus dilakukan workover berdasarkan pola historical data produksi dan injeksi. Oleh karena itu dibuatlah sebuah Tactical Dashborad sumur minyak PT. CPI area Minas. Tactical Dashboard digunakan untuk mendukung management dalam menganalisa sebab akibat, mengevaluasi kinerja, dan menganalisa pola/trend dari data produksi sumur minyak untuk melakukan proses workover terhadap sumur minyak. Sistem Tactical Dashboard ini menghasilkan dashboard dalam bentuk line chart dan informasi data produksi untuk melakukan proses workover, monitoring, evaluasi kinerja, dan pengambilan keputusan tertentu oleh pihak PT. Chevron Pacific Indonesia.
References
Bakti, "Laporan Kerja Praktek Pada PT. Chevron Distrik Minas Sumatra Light Southâ€, Laporan Kerja Praktek, Universitas Islam Riau, Riau, 2013.
Leonardo, Erick dan Ardiansyah. "Laporan Kerja Praktek: Efisiensi Pemisahan Minyak dan Air pada GS I dan II Minas OUâ€. Depok: Universitas Indonesia, 2007.
R.S.Wankhade , D.R. Ingle and B.B. Meshram. "Web analytics dashboard and analysis systemâ€. Journal of Advances in Computational Research. vol 4. pp.83-86, 2012.
Turban, E. "Decision Support and Business Intelligence System. Eight Editionâ€. Pearson EducationalInternational : Prentice Hall, 2007.
El-Sappagh, S.H.A., Hendawi, A.M.A. dan El Bastawissy, A.H. A "proposed model for data warehouse ETL processesâ€. Journal of King Saud University, 2011.
Scheps, Swain. "Business Intelligence for Dummiesâ€. Indiana: Wiley. 1stEdition, 2008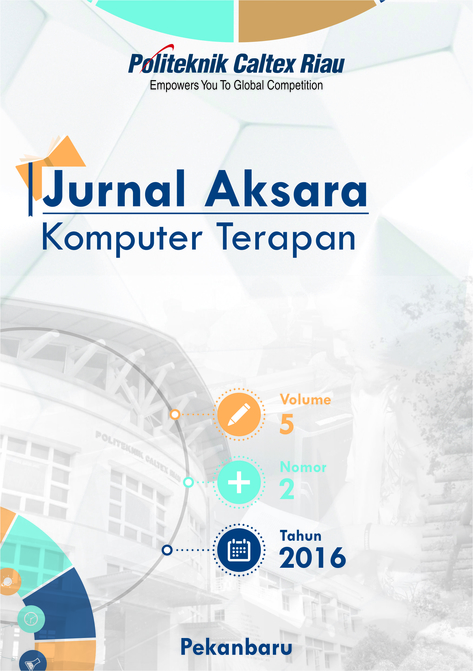 Downloads
License
Copyright info for authors
1. Authors hold the copyright in any process, procedure, or article described in the work and grant the journal right of first publication with the work simultaneously licensed under a Creative Commons Attribution License that allows others to share the work with an acknowledgement of the work's authorship and initial publication in this journal.
2. Authors retain publishing rights to re-use all or portion of the work in different work but can not granting third-party requests for reprinting and republishing the work.
3. Authors are permitted and encouraged to post their work online (e.g., in institutional repositories or on their website) as it can lead to productive exchanges, as well as earlier and greater citation of published work.