Website Pembelajaran Metode AHP dan TOPSIS untuk Pengambilan Keputusan
Abstract
Terdapat berbagai metode yang dapat digunakan untuk pengambilan keputusan. Diantaranya adalah metode Analytical Hierarchy Process (AHP) dan Technique for Order Preference by Similarity to Ideal Solution (TOPSIS). Kedua metode tersebut dapat digabungkan dimana AHP digunakan untuk mendapatkan nilai bobot kriteria dan TOPSIS untuk penentuan alternatif terbaik. Website ini bersifat dinamis yang mana dapat digunakan untuk berbagai kasus dalam pengambilan keputusan. Dan penggunanya dapat menentukan sendiri jumlah kriteria, nilai kepentingan kriteria, jumlah alternatif, dan nilai setiap alternatif untuk masing-masing kriteria. Hasil pengujian dengan menggunakan black box adalah website ini dapat memberi hasil perhitungan yang sesuai dengan perhitungan secara manual. Dan berdasarkan pengujian pemberian nilai inputan, didapatkan hasil bahwa nilai bobot kriteria akan dipengaruhi oleh jumlah kriteria dan nilai pairwise comparison yang digunakan untuk sebuah kriteria.
References
Bhutia, P. W., & Phipon, R. (2012). Application of AHP and TOPSIS Method for Supplier Selection Problem. Department of Mechanical Engineering Sikkim Manipal Institute of Technology Sikkim, India.
Chandra, Y. (2010). Aplikasi Web Multi Criteria Decision Making Menggunakan Metode AHP. Politeknik Caltex Riau, Riau.
Kusrini. (2007). Konsep dan Aplikasi Sistem Pendukung Keputusan. Yogayakarta: Penerbit Andi.
Kusumadewi, S. (2006). Fuzzy Multi-Attribute Decision Making (Fuzzy MADM). Yogayakarta: Graha Ilmu.
Munarwan, & Siddiq, A. F. (2012). Sistem Pendukung Keputusan Menggunakan Metode Technique for Order by Similarity to Ideal Solution (TOPSIS) (Vol. 4, pp. 398–412). Jurusan Sistem Informasi Fakultas Ilmu Komputer Universitas Sriwijaya.
Turban, E. (2005). Decision Support Systems And Intelligent Systems Jilid 2 Ed.7. Penerbit Andi.
Tzeng, G.-H., & Huang, J.-J. (2011). Decision Making Methods and applications. United States of America: Taylor & Francis Group, LLC.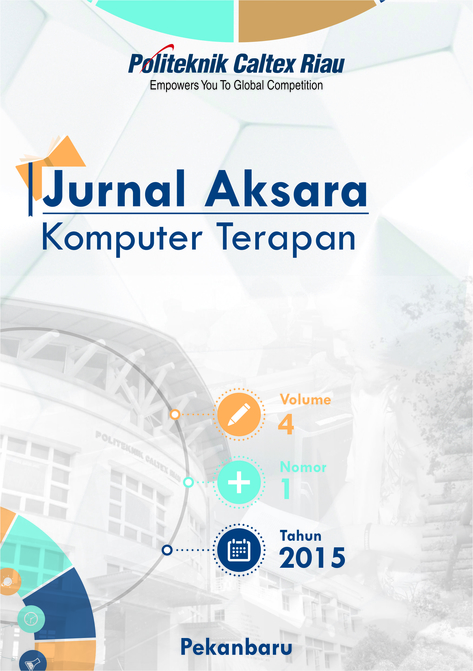 Downloads
License
Copyright info for authors
1. Authors hold the copyright in any process, procedure, or article described in the work and grant the journal right of first publication with the work simultaneously licensed under a Creative Commons Attribution License that allows others to share the work with an acknowledgement of the work's authorship and initial publication in this journal.
2. Authors retain publishing rights to re-use all or portion of the work in different work but can not granting third-party requests for reprinting and republishing the work.
3. Authors are permitted and encouraged to post their work online (e.g., in institutional repositories or on their website) as it can lead to productive exchanges, as well as earlier and greater citation of published work.