Pengaruh Komitmen Profesional, Lingkungan Etika, Intensitas Moral, Personal Cost TerhadapP Intensi Untuk Melakukan Whistleblowing Internal (Studi Empiris Pada OPD Kabupaten Bengkalis)
Adhitya Agri Putra

Universitas Riau

Eka Hariyani

Universitas Riau
Abstract
This study aims to test and prove empirically: (1) Influence Professional commitment to intention to conduct internal whistleblowing (2) Environmental Effect of Intention to conduct internal whistleblowing (3) Effect of Moral Intensity on intention to conduct internal whistleblowing. (4) The influence of Personal Cost on the intention to conduct internal whistleblowing. The sample of this research is 124 people from 31 Organization of Regional Area of ​​Bengkalis Regency. The method of analysis in this study is multiple regression analysis. The results of this study indicate that (1) The professional commitment influences the intention to conduct an internal whistleblowing (2) The ethics environment affects the intention to conduct internal whistleblowing (3) Moral Intensity affects the intention to conduct internal whistleblowing (4) Personal Cost affects the intention to doing internal whistleblowing  Keywords: Internal Whistleblowing Intent,  Professional Commitment,Ethical Environment , Mental Intensity, Personal cost.
References
Bagustianto, Rizki & Nurkholis. 2015. Faktor-Faktor yang Mempengaruhi Minat Pegawai Negeri Sipil (PNS) untuk Melakukan Tindakan Whistleblowing. Jurnal Ilmiah Mahasiswa Feb. Vol 3 (1).
Dalton, Derek dan Robin R.Radtke. 2012."The Joint Effects of Machiavellinsm and Ethical Environment on Whistleblowing".Spriager Science + Business Media Dordrecht.
Ghozali, Imam. 2013. Aplikasi Analisis Multivariate dengan Program SPSS. Semarang: Badan Penerbit Universitas Diponegoro.
Jones, Thomas M. 1991. Ethical Decision Making By Individuals in Organizations: An Issue-Contingent Model. Academy of Management Review. Vol. 16 (2); 366-395.
Komite Nasional Kebijakan Governance (KNKG). 2008. Pedoman Sistem Pelaporan Pelanggaran-SSP (Whistleblowing System-WBS). Jakarta.
Muttaqin, Alif Zain. 2014. "Analisis Faktor-Faktor Yang Mempengaruhi Sensitivitas Etika Auditor Pemerintah". Semarang : Universitas Diponegoro.
Nikmah, Rizqi Awaliya, 2014. Pengaruh Komitmen Profesional Auditor Terhadap Intensi Whistleblowing Dengan Retaliasi Sebagai Variabel Moderating, Skripsi, Jakarta, Universitas Islam Negeri Syarif Hidayatullah.
Putri, Pritta Amina dan Herry Laksito. 2013. "Pengaruh Lingkungan Etika, Pengalaman Auditor dan Tekanan Ketaatan Terhadap Kualitas Audit Judgment". Diponegoro Journal Accounting, Volume 2, Halaman 1-11, 2013.
Rodiyah, Syaifa, 2015. Pengaruh Sifat Machiavellian, Lingkungan Etika Dan Personal Cost Terhadap Intensi Melakukan Whistleblowing. Skripsi. Jakarta. Fakultas ekonomi dan bisnis. Universitas Islam Negeri Syarif Hidayahtullah.
Sagara, Yusar. 2013. Profesionalisme Internal Auditor dan Intensi Melakukan Whistleblowing. Jurnal Liquidity. Januari-Juni 2013. Vol. 2, No. J: 33-44.
Septianti, Windy. 2013. Pengaruh Faktor Organisasional, Individual, Situasional dan Demografis terhadap Niat Melakukan Whistleblowing Internal. Jurnal Simposium Nasional Akuntansi XVI September 2013. Manado.
Setyawati. 2015. "Faktor-Faktor yang Mempengaruhi Niat untuk Melakukan Whistleblowing Internal". Jurnal Ekonomi dan Bisnis ISSN : 1693-0908. 02 September 2015. Vol : 17.
Shaub, M.K., Finn, D.W. and Munter, P. 1993. The effects of Auditor Ethical Orientation on Commitment and Ethical Sensitivity. Behavioural Research in Accounting. Vol. 5:145-169.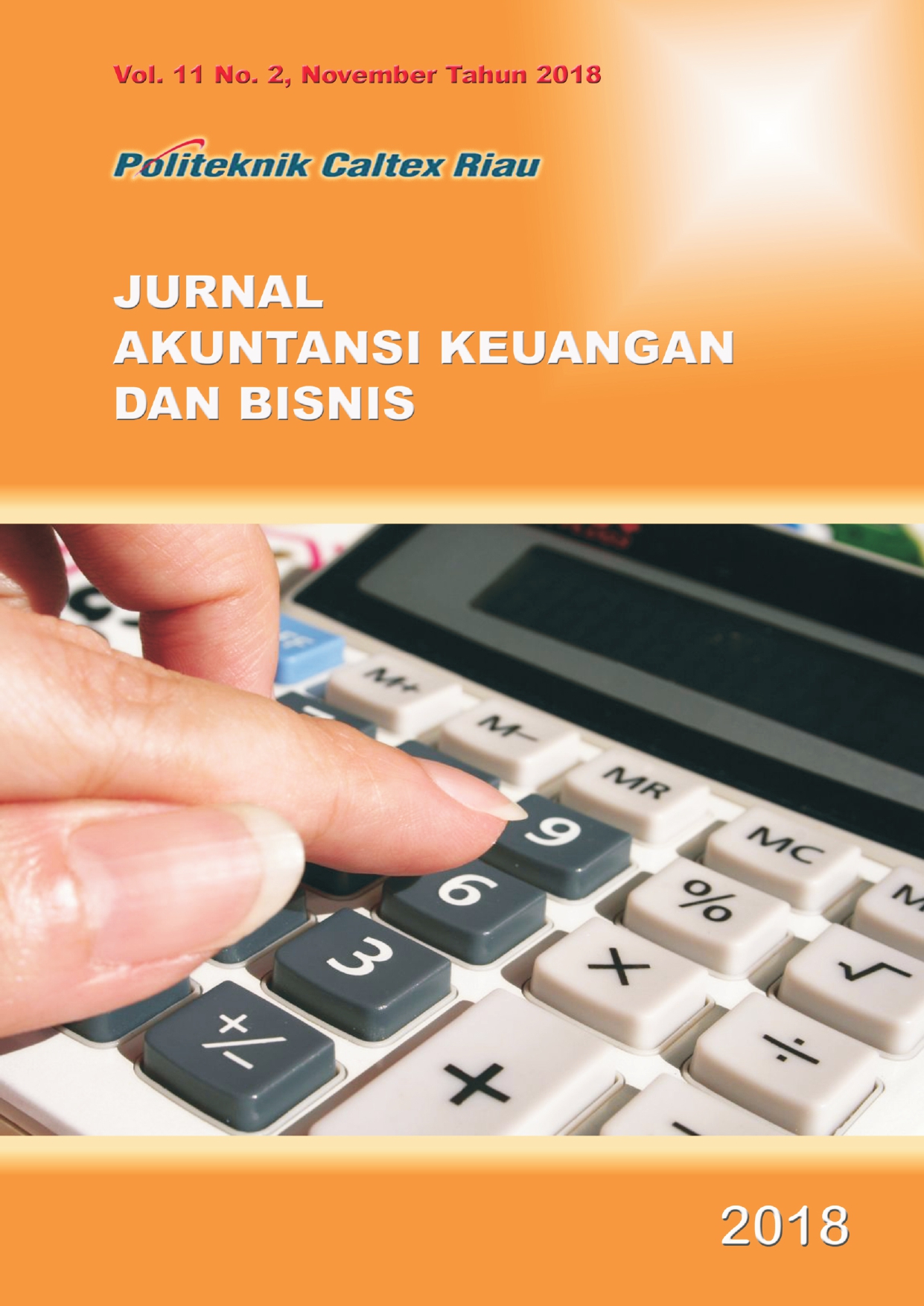 Copyright (c) 2018 Adhitya Agri Putra, Eka Hariyani
This work is licensed under a Creative Commons Attribution-NonCommercial-ShareAlike 4.0 International License.
Authors who publish with this journal agree to the following terms:
Authors hold the copyright in any process, procedure, or article described in the work and grant the journal right of first publication with the work simultaneously licensed under a Creative Commons Attribution License that allows others to share the work with an acknowledgement of the work's authorship and initial publication in this journal.

Authors retain publishing rights to re-use all or portion of the work in different work but can not granting third-party requests for reprinting and republishing the work.

Authors are permitted and encouraged to post their work online (e.g., in institutional repositories or on their website) as it can lead to productive exchanges, as well as earlier and greater citation of published work.