Robot Penyiram Tanaman
Made Rahmawaty

Politeknik Caltex Riau

Muhammad Taufik

Hendriko Hendriko
Abstract
Robot penyiram tanaman merupakan sebuah robot yang dapat melakukan penyiraman secara otomatis yang bertujuan digunakan dalam ruangan seperti diperkantoran, pelayanan umum, sekolah, dan perguruan tinggi.Robot penyiram tanaman sebelumnya menggunakan joystick untuk pergerakan robot, pada penelitian ini mengembangkan robot agar dapat bergerak secara otomatis.Robot ini dapat bergerak secara otomatis dengan menggunakan metode pendeteksian penghalang,pergerakan, dan  pembacaan warna pot. Metode pendeteksian penghalang (dinding) menggunakan sensor ultrasonik yang bertujuan untuk mengetahui jarak penghalang pada robot. Pembacaan untuk warna pot menggunakan kamera webcam dan raspberry pi 3digunakan untuk mengontrol prosespendeteksian halangan, pembacaan warna pot dan pendeteksian pergerakan. Rata-rata persentase error pembacaan jarak pada sensor ultrasonik adalah 5,279%. Pendeteksian penghalang pada pergerakan robot baik maju, belok kiri dan belok kanan adalah 100%.Rata-rata keberhasilan robot dengan empat posisi penyiraman adalah 75%. Dari hasil pengujian maka robot penyiram tanaman dapat digunakan untuk perawatan tanaman khususnya penyiraman.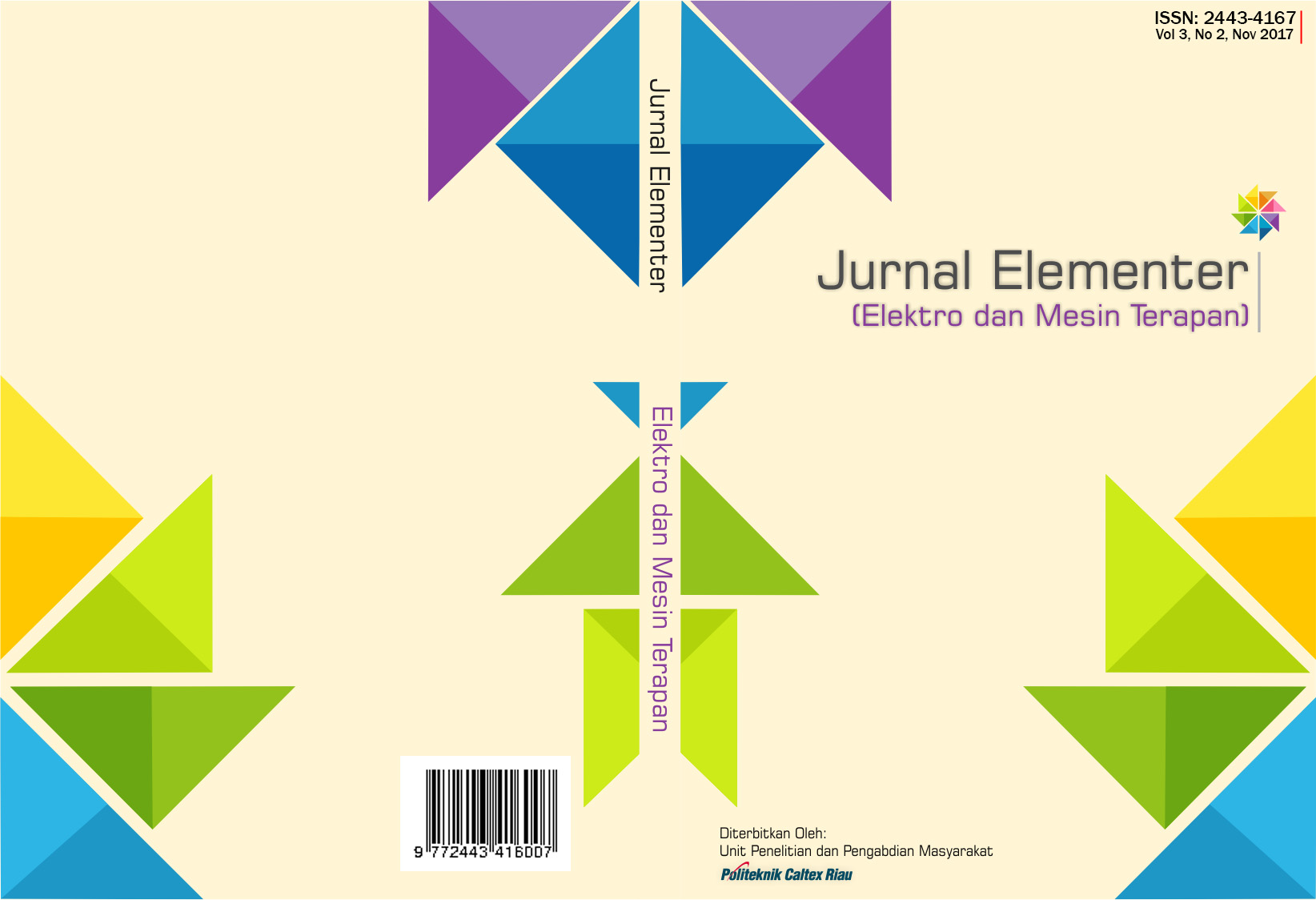 Copyright (c) 2017 Made Rahmawaty, Muhammad Taufik, Hendriko
This work is licensed under a Creative Commons Attribution-NonCommercial-ShareAlike 4.0 International License.
Authors who publish with this journal agree to the following terms:
a. Authors retain copyright and grant the journal right of first publication with the work simultaneously licensed under a Creative Commons Attribution License that allows others to share the work with an acknowledgement of the work's authorship and initial publication in this journal.
b. Authors are able to enter into separate, additional contractual arrangements for the non-exclusive distribution of the journal's published version of the work (e.g., post it to an institutional repository or publish it in a book), with an acknowledgement of its initial publication in this journal.
c. Authors are permitted and encouraged to post their work online (e.g., in institutional repositories or on their website) prior to and during the submission process, as it can lead to productive exchanges, as well as earlier and greater citation of published work.

This work is licensed under a Creative Commons Attribution 4.0 International License.