Pengembangan Robot Pemanjat Tiang Otomatis
Abstract
Robot merupakan salah satu alternatif terbaik untuk mengatasi berbagai permasalahan manusia, diantaranya adalah untuk menggantikan peran manusia dalam melakukan pekerjaan yang berbahaya. Dalam penelitian ini dikembangkan robot pemanjat tiang otomatis. Robot yang dikembangkan tidak hanya sekedar mampu memanjat tiang, namun juga mampu berjalan di lantai menggunakan roda. Robot ini memiliki dua buah roda penggerak dan satu buah roda bebas. Selain itu robot juga dilengkapi dengan fitur image processing dengan menggunakan sensor kamera sehinga robot dapat mendeteksi posisi tiang. Prinsip kerja robot adalah robot mendeteksi keberadaan tiang yang telah diberi tanda warna merah. Selanjutnya jika posisi tiang terdeteksi maka robot berjalan menuju ke arah tiang. Setelah robot sampai ke depan tiang maka gripper robot akan bekerja untuk melakukan fungsi memanjat. Robot ini memilki dua buah gripper yang berfungsi untuk mencekam tiang pada saat memanjat. Gripper akan digerakan oleh motor DC yang bergerak secara bergantian sehingga robot dapat memanjat. Dari hasil pengujian diperoleh data bahwa kecepatan rata-rata robot robot berjalan di lantai adalah 13,17 cm/s. Sedangkan kecepatan rata-rata robot memanjat tiang adalah 0,835 cm/s. Sehingga dapat disimpulkan bahwa secara umum robot mampu melakukan tugasnya dengan sangat baik.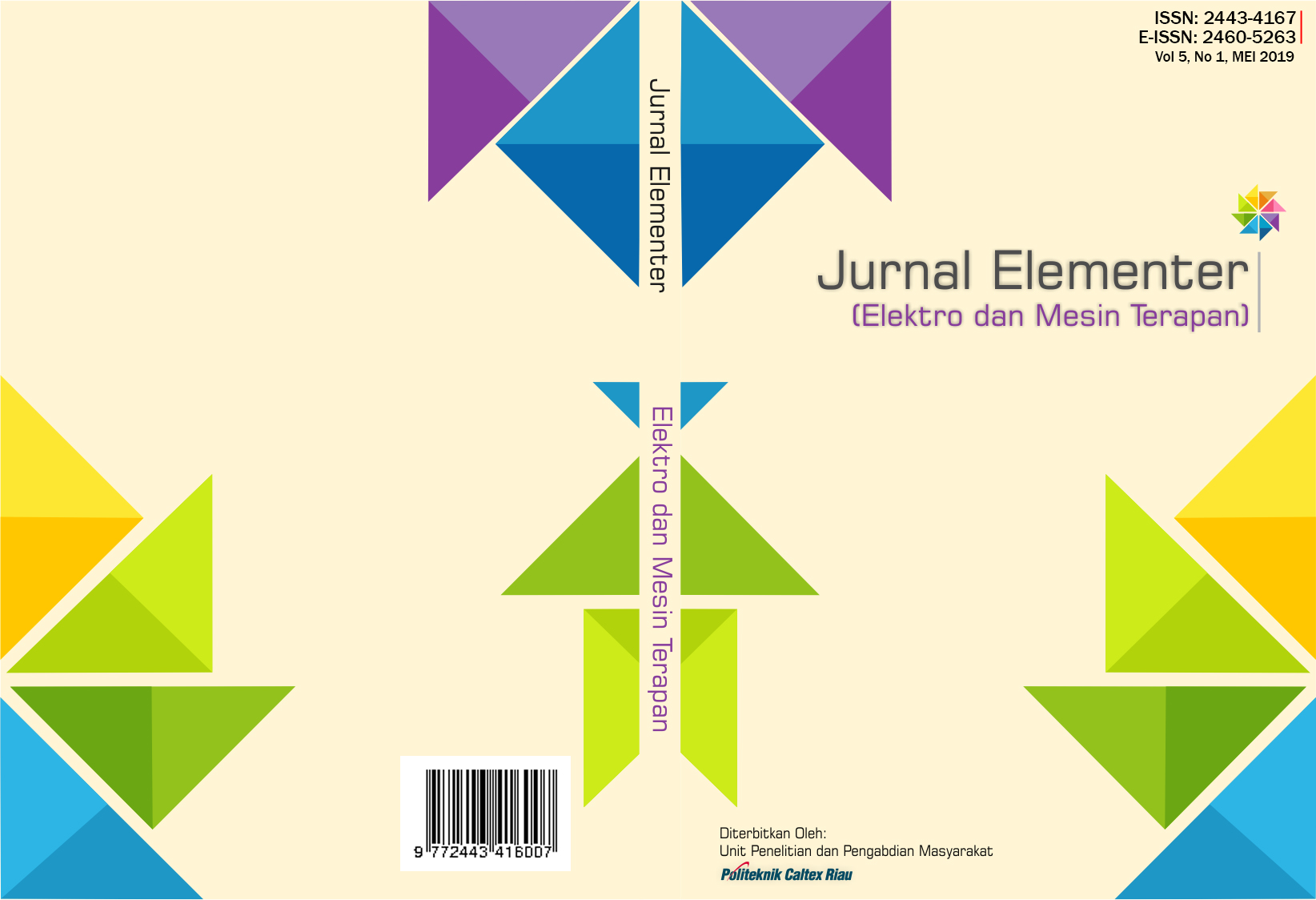 Copyright (c) 2019 hendriko hendriko, Beril Linggar Sukses, Roni Novison
This work is licensed under a Creative Commons Attribution-NonCommercial-ShareAlike 4.0 International License.
Authors who publish with this journal agree to the following terms:
a. Authors retain copyright and grant the journal right of first publication with the work simultaneously licensed under a Creative Commons Attribution License that allows others to share the work with an acknowledgement of the work's authorship and initial publication in this journal.
b. Authors are able to enter into separate, additional contractual arrangements for the non-exclusive distribution of the journal's published version of the work (e.g., post it to an institutional repository or publish it in a book), with an acknowledgement of its initial publication in this journal.
c. Authors are permitted and encouraged to post their work online (e.g., in institutional repositories or on their website) prior to and during the submission process, as it can lead to productive exchanges, as well as earlier and greater citation of published work.

This work is licensed under a Creative Commons Attribution 4.0 International License.