Desain dan Implementasi Antena Mikrostrip Single Rectangular Patch Pada Band Frekuensi 1920-2180 MHz Untuk Pengisi Daya Alternatif Perangkat Berdaya Rendah
Keywords:
Mikrostrip, Power Harvester, Energi Gelombang Elektromagnetik
Abstract
Menipisnya sumber energi bumi dijadikan sebagai energi listrik menyebabkan adanya pemanfaatan energi gelombang elektromagnetik sebagai energi alternatif. Untuk mendapatkan energi gelombang elektromaagnetik pada band 1920 sampai 2180 MHz diperlukan antena mikrostrip single rectangular patch yang diintegrasikan dengan modul rectifier EH300. Antena mikrostrip ini dibuat dari bahan Rogers dengan konstanta dielektrik 6,15 dan ketebalan 1,52 mm. Hasil simulasi diperoleh VSWR 1,02, Return Loss -39,93 dB, dan Gain 3,03 dBi pada frekuensi 2050 MHz. Pengujian hasil implementasi diperoleh VSWR 1,166, Return Loss -22,4 dB, dan Gain 2,83 dBi pada frekuensi 2050 MHz.
References
D. Parubak, "Rancang Bangun Antena Penyearah (Rectifier Antenna) untuk Pemanen Energi Elektromagnetik Pada Frekuensi GSM 1800 MHz," J. Univ. Brawijaya, 2014.
Y. Andrea, "Rancang Bangun Antena Mikrostrip Rectangular Patch Log Periodik untuk Ultra High Frequency Energy Harvesting." Politeknik Caltex Riau, Pekanbaru, 2014.
S. D. Assimonis, "Efficient RF Harvesting for Low-Power Input with Low-Cost Lossy Substrate Rectenna Grid," IEEE RFID-TA J., pp. 1–6, 2014.
C. A. Balanis, ANTENNA THEORY ANALYSIS AND DESIGN. 2005.
A. Azizah, "Desain Antena Mikrostrip Triangular untuk Aplikasi Radar Altimeter," J. Univ. Hasanuddin, 2013.
R. D. Cahyo, "Perancangan dan Analisis Antena Mikrostrip Array dengan Frekuensi 850 MHz untuk Aplikasi Praktikum Antena," J. Univ. Diponegoro, 2009.
I. Advanced Linear Devices, "EH300/EH301 EPAD ENERGY HARVESTING Modules," 2007.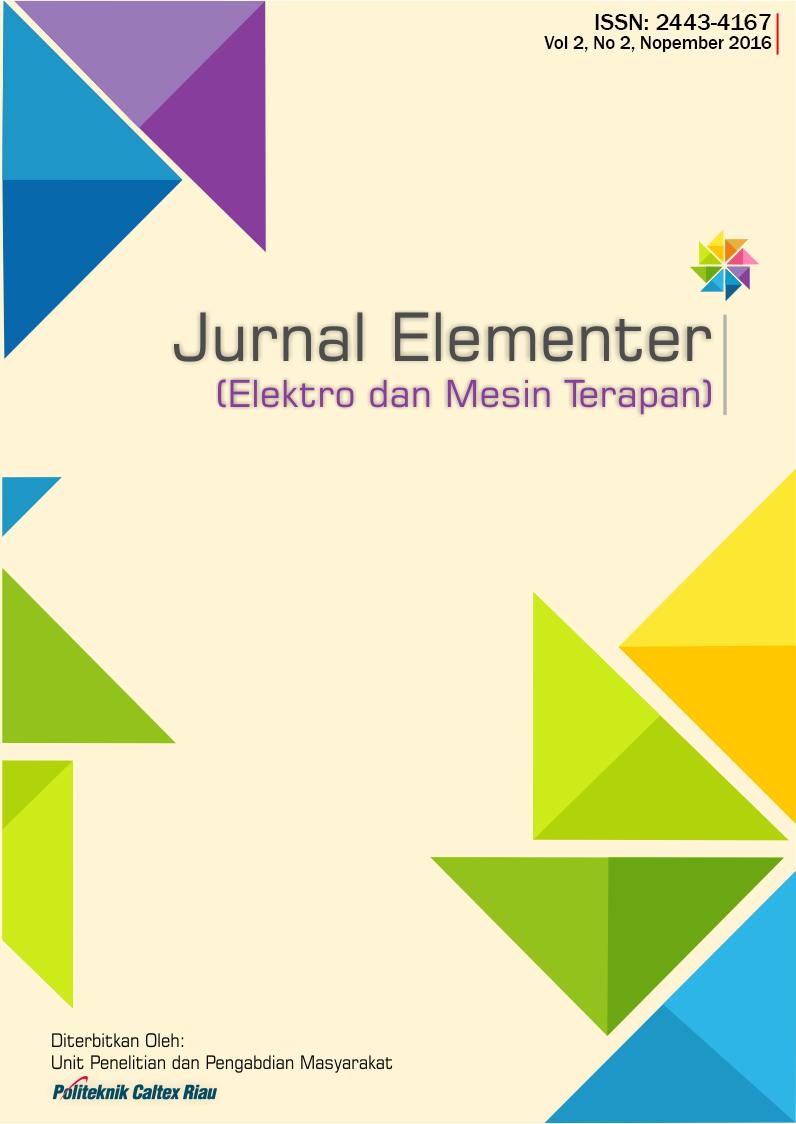 Copyright (c) 2016 Aufar Zikri, mohammad yanuar Hariyawan, NOPTIN HARPAWI
This work is licensed under a Creative Commons Attribution-NonCommercial-ShareAlike 4.0 International License.
Authors who publish with this journal agree to the following terms:
a. Authors retain copyright and grant the journal right of first publication with the work simultaneously licensed under a Creative Commons Attribution License that allows others to share the work with an acknowledgement of the work's authorship and initial publication in this journal.
b. Authors are able to enter into separate, additional contractual arrangements for the non-exclusive distribution of the journal's published version of the work (e.g., post it to an institutional repository or publish it in a book), with an acknowledgement of its initial publication in this journal.
c. Authors are permitted and encouraged to post their work online (e.g., in institutional repositories or on their website) prior to and during the submission process, as it can lead to productive exchanges, as well as earlier and greater citation of published work.

This work is licensed under a Creative Commons Attribution 4.0 International License.