ALAT BANTU TERAPI PASCA STROKE UNTUK TANGAN
Putri Madona

Politeknik Caltex Riau
Keywords:
Alat Bantu Terapi Stroke
Abstract
Alat Bantu Terapi Pasca Stroke untuk Tangan adalah sebuah alat yang dirancang untuk memberikan kemudahkan kepada pasien penderita stroke dalam melakukan terapi mandiri, sehingga dapat mengurangi tingkat disabilitas pasca stroke. Dengan ketersediaan waktu yang tidak memadai untuk melakukan terapi di rumah sakit, pasien penderita stroke maupun keluarga pasien, kesulitan untuk menemukan jadwal terapi yang tersedia. Hal ini membuat keluarga sulit untuk menemukan jadwal untuk melakukan terapi dirumah sakit. Dengan alasan itulah dibuat sebuah Alat Bantu Terapi Pasca Stroke untuk Tangan yang dapat digunakan sebagai salah satu alat bantu dalam proses pemulihan pasca stroke yang dapat digunakan saat berada dirumah. Alat Bantu Pasca Stroke untuk Tangan ini dikontrol menggunakan mikrokontroler berbasis Mikrokontroler Arduino UNO dengan menggunakan motor DC sebagai penggeraknya untuk menahan beban tangan pasien. Alat ini dapat melakukan 4 (empat) mode pergerakan rehabilitasi, yaitu mode satu; gerakan siku kekiri dan kekanan, mode dua; gerakan siku keatas dan kebawah, mode tiga; lengan keatas dan kebawah, dan mode empat; gabungan dari semua mode dengan kecepatan yang aman bagi pasien pasca stroke. Tersedia mode pengaturan kecepatan pada alat, agar pengguna dapat mengatur kecepatan alat sesuai dengan kapasitasnya. Serta, pergerakan pada alat ini dapat memberikan kemudahan dan mengurangi resiko disabilitas.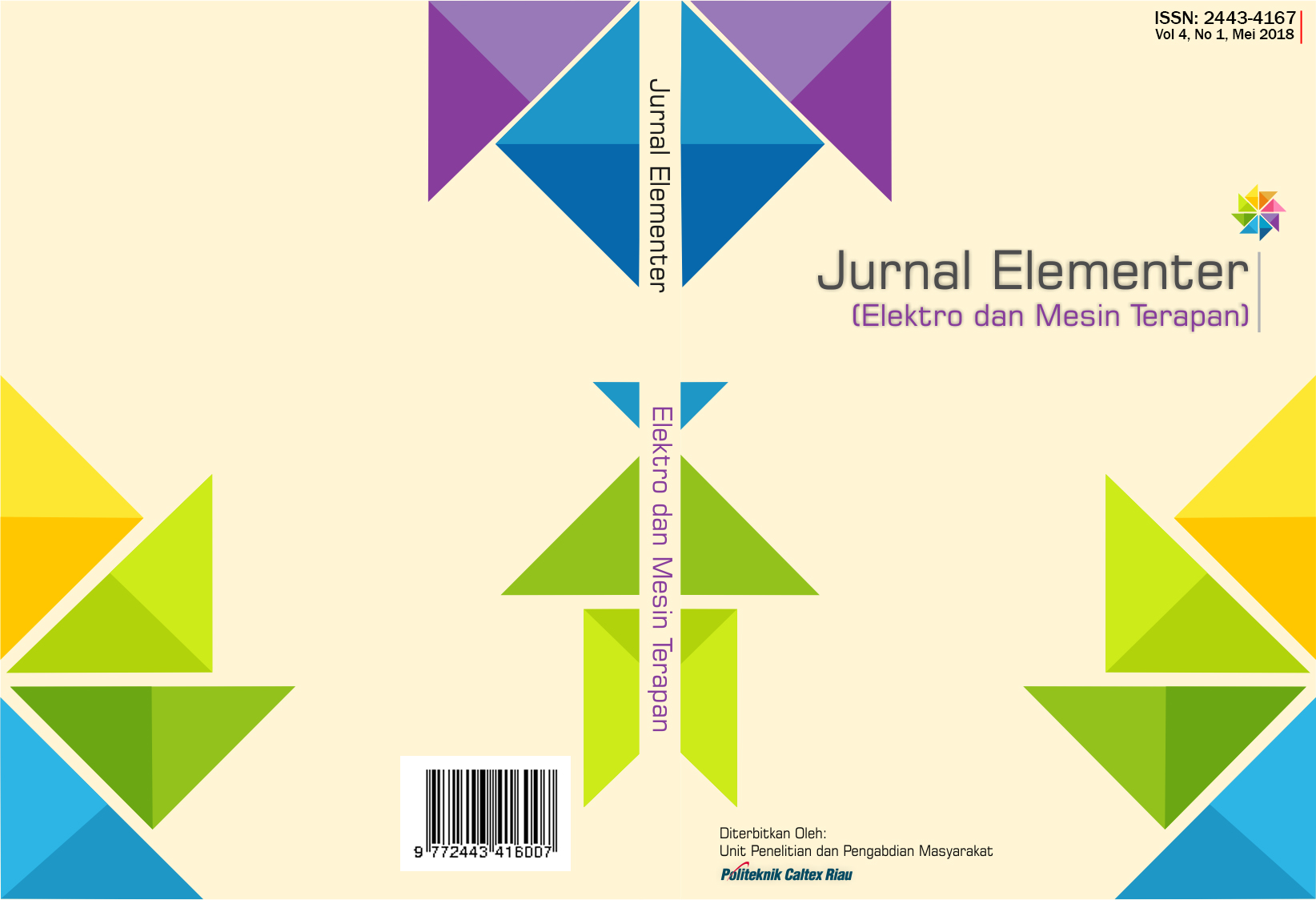 Copyright (c) 2018 Said Ryan Syareza, Remilla Oktiasari, Putri Madona, Elva Susianti, Muzni Sahar
This work is licensed under a Creative Commons Attribution-NonCommercial-ShareAlike 4.0 International License.
Authors who publish with this journal agree to the following terms:
a. Authors retain copyright and grant the journal right of first publication with the work simultaneously licensed under a Creative Commons Attribution License that allows others to share the work with an acknowledgement of the work's authorship and initial publication in this journal.
b. Authors are able to enter into separate, additional contractual arrangements for the non-exclusive distribution of the journal's published version of the work (e.g., post it to an institutional repository or publish it in a book), with an acknowledgement of its initial publication in this journal.
c. Authors are permitted and encouraged to post their work online (e.g., in institutional repositories or on their website) prior to and during the submission process, as it can lead to productive exchanges, as well as earlier and greater citation of published work.

This work is licensed under a Creative Commons Attribution 4.0 International License.