Akuisisi Data Sinyal Photoplethysmograph (PPG) Menggunakan Photodioda
Putri Madona

Politeknik Caltex Riau

Chitra Annisa Pratiwi

Politeknik Caltex Riau
Abstract
Photoplethysmograph (PPG) merupakan metode yang digunakan untuk mengetahui kondisi sistem kardiovaskular dengan mengukur perubahan volume darah pada jaringan kulit. Dalam penerapannya, metode ini menggunakan sensor optik untuk menangkap sinyal elektrik yang berasal dari sumber cahaya yang terpantul karena perubahan aliran darah selama jantung bekerja. Pada proyek akhir ini dirancang sebuah alat yang mampu merepresentasikan aliran darah tubuh sebagai sinyal PPG dengan menggunakan photodioda sebagai sensor optik untuk menangkap cahaya dari LED Inframerah. Sinyal yang dihasilkan oleh photodioda adalah sinyal alami dari tubuh dengan frekuensi kecil yang bercampur dengan noise. Sinyal ini harus diproses secara rangkaian menggunakan rangkaian pengkondisi sinyal. Rangkaian pengkondisian sinyal yang digunakan adalah high pass filter, penguat op-amp, low pass filter dan adder. Pada proyek akhir ini sinyal PPG yang difilter berada pada frekuensi 0,05 Hz – 20 Hz sesuai dengan teori yang dinyatakan oleh referensi. Sinyal output yang diperoleh berupa sinyal analog. Agar dapat diolah dimikrokontroler diperlukan ADC (Analog to Digital Converter) untuk mengubah sinyal analog menjadi sinyal digital melalui program yang dimasukkan ke mikrokontroler. Data hasil akuisisi sinyal PPG oleh mikrokontroler kemudian ditampilkan pada LCD. Pengujian alat menunjukkan bahwa sistem yang dibuat telah mampu memperoleh dan menampilkan sinyal PPG namun ketidakstabilan yang muncul mengganggu output rangkaian (sinyal PPG) sehingga menyebabkan adanya data error pada data hasil akuisisi sinyal PPG.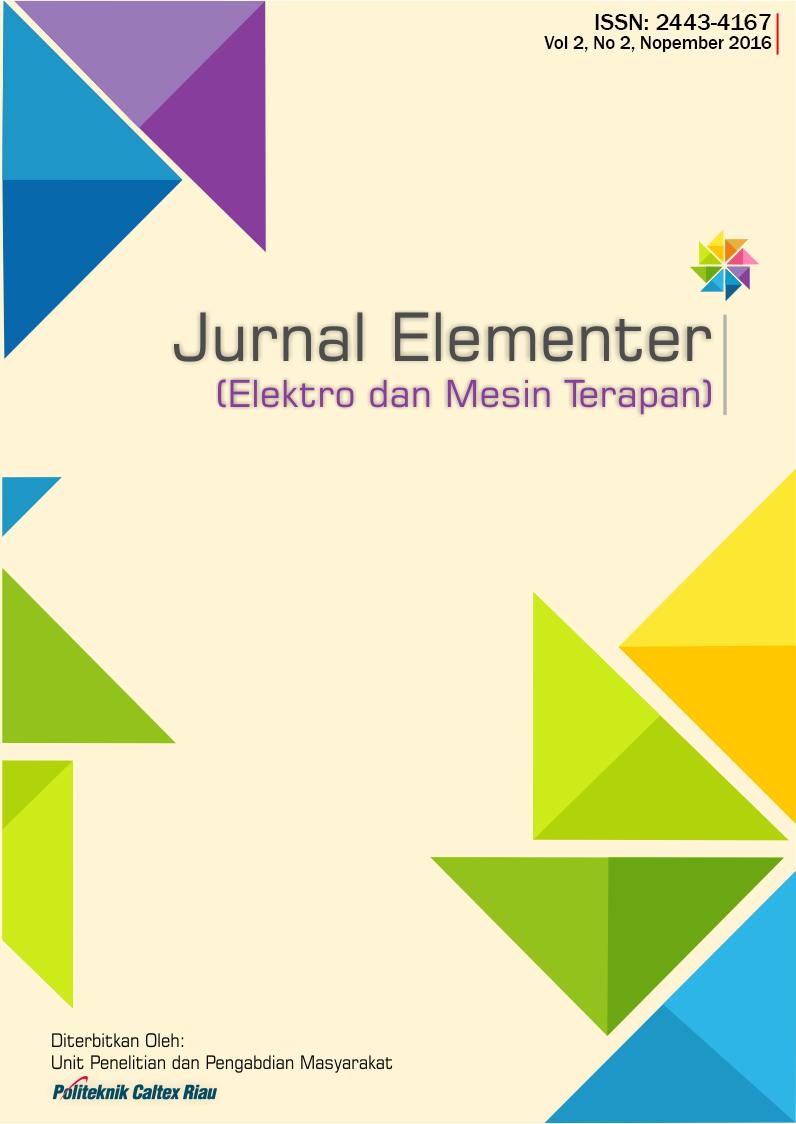 Copyright (c) 2016 Putri Madona, Chitra Annisa Pratiwi
This work is licensed under a Creative Commons Attribution-NonCommercial-ShareAlike 4.0 International License.
Authors who publish with this journal agree to the following terms:
a. Authors retain copyright and grant the journal right of first publication with the work simultaneously licensed under a Creative Commons Attribution License that allows others to share the work with an acknowledgement of the work's authorship and initial publication in this journal.
b. Authors are able to enter into separate, additional contractual arrangements for the non-exclusive distribution of the journal's published version of the work (e.g., post it to an institutional repository or publish it in a book), with an acknowledgement of its initial publication in this journal.
c. Authors are permitted and encouraged to post their work online (e.g., in institutional repositories or on their website) prior to and during the submission process, as it can lead to productive exchanges, as well as earlier and greater citation of published work.

This work is licensed under a Creative Commons Attribution 4.0 International License.